With the recent launch of our new shabby chic garden furniture paint colours, we thought it was a good time to take a trip down the yellow brick road of memory lane. Here's an article from Cabinet Maker magazine from when our successful furniture paint first made its public appearance. Enjoy!
Delving into the colourful world of furniture paint with shabby chic specialists, Rainbow Chalk.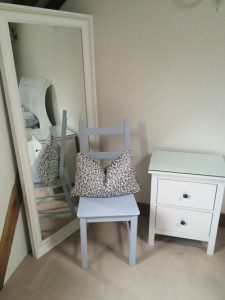 A tornado, a scarecrow, a tin man and a lion. They're fairly innocuous images on their own, but combined they're images that immediately conjure up a whole other world, one of colour and magic, found over the rainbow.
The Wizard of Oz is much more than a story; it's an institution. The first film to be filmed using the new vivid technicolour process, filmmakers had their work cut out for them making as visually stunning a film as possible. They obviously didn't disappoint, as people haven't stopped talking about it for almost 70 years.
From the green of the Emerald City to the red of Dorothy's ruby slippers, people were inspired by what they saw. And it's no different for liquid chalk and furniture paint producers, Rainbow Chalk, a company for whom colour isn't merely an inspiration; it's a way of life.
So, to take our own trip over the rainbow and find out what's up and coming from the company, Cabinet Maker met up with Rainbow Chalk sales manager Liz Ednie.
Rainbow Chalk – The Early Years
And while Dorothy had Kansas, we were interested to find out Rainbow Chalk has the equally humble beginnings of a garage belonging to one of its founders. It was here in 1994 that the company's initial product offering was created and honed by mixing chalk and colours together, before pouring the mixture into liquid pens.
As Liz explains it: "Growing from the garage into chicken sheds the company was able to expand, hiring staff and increasing the product range to include black board paint and cleaner as well as the black boards themselves. They also developed grout pens and various forms of liquid chalk, which leads us to where we are now.
"These days you'll find us in larger premise in Harlow where we manufacture and dispatch all our products and where we are now fully automated to allow us to meet higher demand."
From the brains it took to create such a reliable and flourishing range to the courage it took to see it through to fruition and eventual success, now comes time for the heart, when Rainbow Chalk has reached the point where it can start experimenting with a variety of new and exciting products.
Rainbow Chalk's Shabby Chic Furniture Paint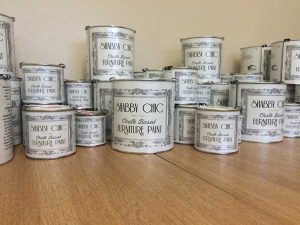 The most imminent of these is the company's new furniture paint, which gives users the chance to easily renovate and transform pieces of furniture, and can be used directly onto wood, brick, stone, plaster or indeed any suitably primed rigid surface, such as metal or plastic. Of course, the product's creators are rightfully proud of such a diverse product:
"To us, Shabby Chic chalk based furniture paint was a natural progression in our range, as are our other products," Liz tells us.
"It is water based paint so there are no nasty chemicals meaning it is virtually odorless and making it safe to use for any one or any environment. It also has a fast drying time without the need of an undercoat and is nontoxic, ensuring a low carbon foot print as we are very aware of the environment."
Clearly committed to their customers both potential and existing, the team at Rainbow Chalk have their work cut out for them to stay on top of emerging market trends. What's good is that, although their product is fairly niche, they are still able to track such changes the same way as every other business in the industry, by attending exhibitions, such as the January Furniture Show at the NEC, as well as extensive research in the media, online and on the high street.
The company has managed to raise its profile massively since it was established over 20 years ago, even leading it to obtain the trademark for Liquid Chalk in 1999. However, that doesn't mean it sees itself as above the thoughts and opinions of its user base. In fact, when we ask Liz about the design process behind Rainbow Chalk's products she's refreshingly open, describing how customers often approach the company with ideas on how to improve existing products, or even develop new ones. Working closely with a chemist, the in-house team of research and development members at the business are seemingly only limited by their imaginations in terms of the colours they can produce.
This attention to detail when it comes to customer care is sure to serve the business well as it ventures into new areas, as will its high standards in customer care, as Liz told us: "In most instances we look to dispatch orders on the day of ordering, we also offer very competitive pricing and a colour match service so the customer can get what they want, and this is for our whole range of products."
Shabby Chic Paint Colours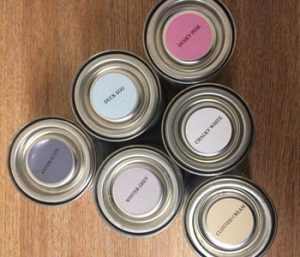 Speaking to Liz it's obvious that Rainbow Chalk's scope for development knows no bounds. With this new range of Shabby Chic furniture paint products comes almost limitless possibilities for expansion in colours alone. And it got Cabinet Maker's imagination firing on all cylinders about what paint we would create if given the chance. From brick-road yellow to good-witch pink, or possibly something a little more subtle, our talk with Liz has us getting in touch with our inner artist. And with talk of a new range of liquid chalk pens suitable for use on porcelain something tells us everyone's houses could be getting a little more creative, bringing new meaning to the phrase 'there's no place like home'.
As our time at Rainbow Chalk draws to a close, we just had enough time ask Liz to sum up the companies main objectives moving forward, to which she gave the perfect response: "We want to be the best at what we do: bringing the colours of the rainbow to our customers."
Click here to buy your paint so you too can be over the Rainbow with Shabby Chic Furniture Paint
This article featuring Rainbow Chalk's Shabby Chic Furniture Paint was originally published in Cabinet Maker Magazine in March 2015
FIRST TIME BUYERS RECEIVE 10% OFF WITH PROMO CODE "ftb10"