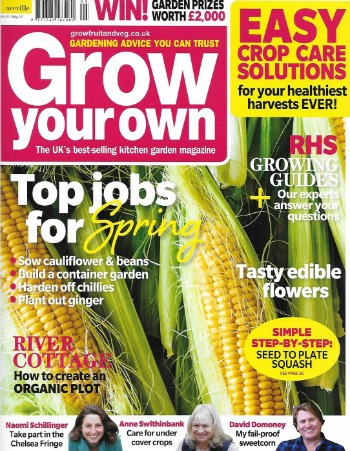 Grow Your Own Magazine Features Rainbow Chalk Garden Paint!
Rainbow Chalk will be featuring in the May 2017 edition of Grow Your Own magazine – how exciting! Our Shabby Chic Garden Paint can be seen on the "Your May discounts" page.
Rainbow's Shabby Chic Garden Paint In Grow Your Own Magazine
Keep an eye out for the May edition of Grow Your Own magazine, due for release on 1st May.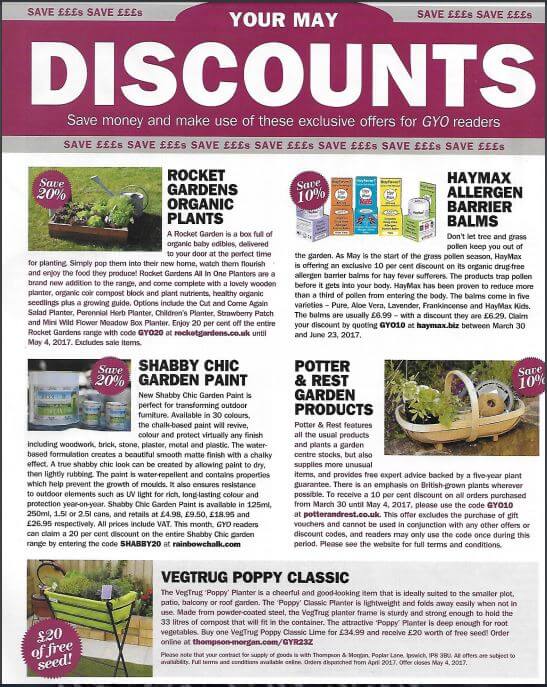 Our article reads:
"New Shabby Chic Garden Paint is perfect for transforming outdoor furniture. Available in 30 colours, the chalk based paint will revive, colour and protect virtually any finish including woodwork, brick, stone, plaster, metal and plastic.
The water-based formulation creates a beautiful smooth finish with a chalky effect. A true shabby chic look can be achieved by allowing the paint to dry, then lightly rubbing [with sandpaper].
The paint is water-repellent and contains properties which help prevent the growth of moulds. It also ensures resistance to outdoor elements such as UV light for rich, long lasting colour and protection year-on-year.
Shabby Chic Garden Paint is available in 125ml, 250ml, 1l and 2.5l cans and retails at £4.98, £9.50, £18.95 and £26.95 respectively. All prices include VAT."
Get Your Garden Paint Now!
Add a tin of paint straight to your basket using the product boxes below. First, choose your colour from the drop down menu and then click "add to basket".