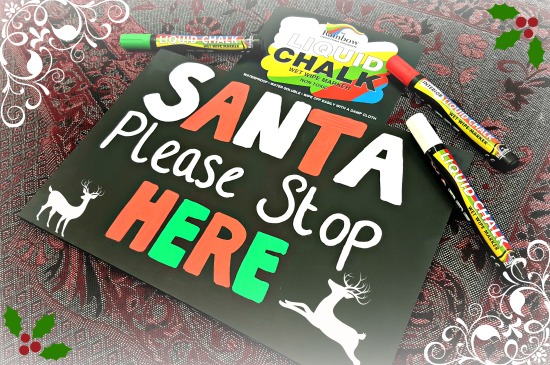 DIY Santa Stop Here Sign – Fun For Kids At Christmas
In our last post, we covered how to make personalised Christmas plates to keep the kids entertained during the Christmas holiday. Now we're going to teach you how to make your very own DIY Santa Stop Here sign with a chalkboard and liquid chalk markers.
It's an easy and inexpensive way to keep your little ones occupied over the holiday and get them excited in the run up to Christmas.
How To Make A Santa Stop Here Sign
What You Will Need:
Instructions For Your Santa Stop Here Sign
You'll be pleased to know that there isn't a long list of instructions you need to read before attempting to make your Santa Stop Here sign. All you need to do is:
Set out an old tea towel or a newspaper on the work space to avoid any spillage
Use a pencil to lightly draw on the design before committing to the liquid chalk
Shake the liquid chalk marker a few times to get the ink loose (it may have settled in transit to you)
Take off the lid and gently pump the nib on a piece of paper to get the ink flowing
Draw on your design – slowly does it!
Wait for your ink to dry

And there you have it – your easy peasy DIY Santa Stop Here sign!
Our assorted packs of porcelain pens include 5 colours (red, green, white, yellow and blue), or you can choose individual pens.
The colours available are: Black, Blue, Brown, Red, Green, White, Pink, Violet, Yellow, Gold, Silver and Orange.
FAQs About Our Rainbow Chalk Markers
"But what if we make a mistake? How hard is it to fix?"
Well, if the ink spills or you make a mistake on the design, all you need to do is get some paper towels, wet them with some warm water and wipe the ink away. Depending on how large your design is and how long it has been dry, it may be a little stubborn coming off. We suggest getting some Rainbow Chalk cleaner just in case.
"Are these markers child-friendly?"
Yes! Our chalk markers are made from a water based non toxic formula, so:
They won't cause your children any harm if they come into contact with the skin
They are easily washed off with warm soapy water
They don't have a strong chemical smell
"Can we leave the Santa Stop Here sign outside?"
Yes you can. Our exterior chalk markers are not only designed for kid-friendly DIY activities, but also for pubs, restaurants and schools. That means that chalkboards can be left outside and they can even withstand light showers… but not torrential downpours!
If the weather is particularly bad, we suggest leaving the sign inside against the window. Don't worry… Santa will still see it and stop by your house!
On the other hand, our interior chalk markers are designed for indoor use only and will be washed away by the rain if left outside.
Make Your Own DIY Christmas Chalkboard Sign With Rainbow Chalk Markers
We have just what you need for this affordable DIY project. Use the product boxes below to select the chalkboard size you want and your chalk markers and then click "ADD TO BASKET". Or select our Christmas special offer pack that includes chalkboard paint, chalk markers and the easy clean remover.
First time buyers get 10% off your purchase by entering the code "ftb10" at the checkout!