Modern street art is moving off the streets and into shops in the form of eye-catching murals and window displays. And, graffiti pens are a great way to make this happen!
If there's a way to make your high-street shop, restaurant or cafe stand out, it's with an interesting shop front. Take, for instance, this pub/restaurant in Essex. They have covered their windows with lovely colourful designs that promote current deals and menus.
Professional window display stickers and signs are expensive, and that means you have to fork out every time you want to change it up for a new season or holiday.
Make your shop displays POP with coloured graffiti pens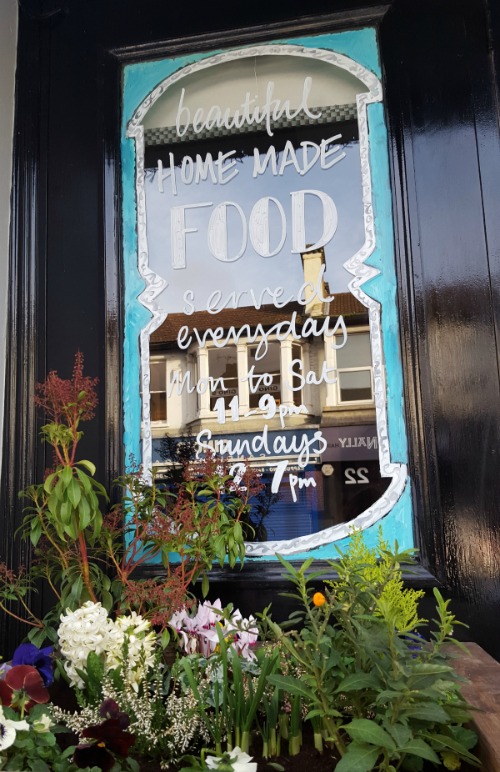 The window display reads "Beautiful home made food, served everyday Mon to Sat 11-9pm, Sundays 12-7pm".
Graffiti pens, or Rainbow Chalk Markers (as we call them), offer businesses of all kinds the opportunity to advertise details about their business that passers-by wouldn't have otherwise known. That could be the difference between someone walking straight past your business, or coming in to have a look!
In addition to the useful information, this pub have used graffiti pens to outline their window with a colourful blue border. Using different colours will help to catch people's attention and make your shop front stand out against a boring crowd.
Chalk graffiti pen designs can be washed away, stress free!
So, what happens when you want to change the design on your windows? Will you be left to scrub stubborn chalk paint that will leave your windows murky?
Of course not! Our Rainbow chalk graffiti pens can be wiped away with a damp cloth. Depending on how long you've had the design on your windows, you may need some of our chalk marker window cleaner. You can buy it in the product box at the bottom of this post!
Once you've wiped the paint off, clean your windows as normal and get going on your new design!
No more spending on promotional stickers and signs, make them yourself or with your staff for a small fraction of the price!
Window displays for all weathers and seasons
Perhaps another question you have is "But if they wash off with water, what will happen to my beautiful designs when it rains?"
The solution is simple! Unless your windows are under cover, we would highly recommend drawing from the inside.
This takes a bit more effort as you have to remember to write backwards so that your text is readable from the outside! But fear no more, we also have a handy tip for that, too.
You can make a stencil from a large piece of paper with your desired design, then stick the stencil to the window from the inside and viola. This also means you don't have to worry about going over the edges.
Click here for a list of YouTube stencil-making tutorials!
Here are some of our graffiti pen design suggestions:
Snowflakes and snowmen in white and blue for winter,
Rabbits and patterned eggs in yellow and pink for Easter
Red and white love hearts for Valentine's Day displays
Red, yellow and green flowers for summer time fun
Orange and red leaves during Autumn
Opening days/ times for your customers
Write "today's specials" on your window display so people know what's on offer
Announce sales and discounts
The options are endless!
Feeling creative? Stand out from the crowd!
Do you offer something unique to customers? What is your soup of the day?
Send the message through the medium of jazzy artwork. The pen's ink flow is controlled through a valve, which gives the artist better control and stability.
Create your masterpiece and buy your Rainbow Liquid Chalk Pens from our product page here, or buy an assorted pack in the product box below.
First time buyers also get 10% off their purchase with the code "ftb10". Enter the code in lower-case letters at the checkout!