3 Valentine's Chalkboard Paint Ideas For Businesses
If you're looking for something to make Valentine's Day that little bit more special for your customers, why not try these Valentine's chalkboard paint ideas?
Not only is a chalkboard display a great way to advertise any special offers and menu additions, a beautiful design will make your pub, restaurant or bistro stand out!
Chalkboard paint ideas for Valentine's Day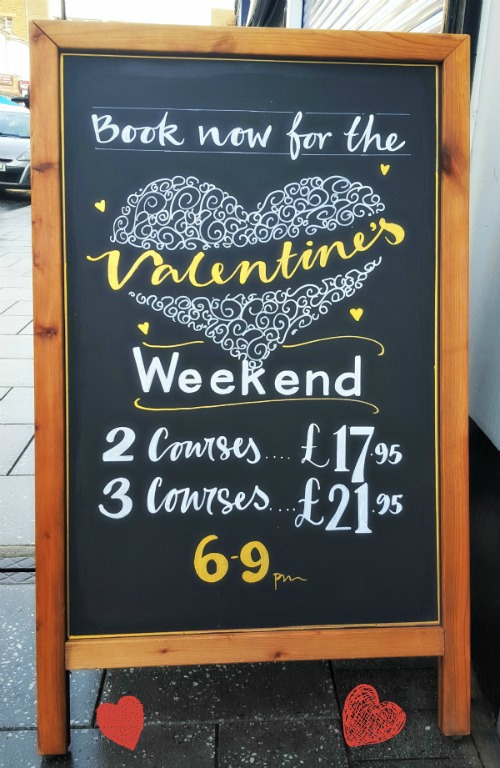 This design is simple yet striking. It gives the business a chance to showcase their special Valentine's Day deals that passers-by wouldn't have otherwise known. In addition to this, the vivid yellow and white against the black makes their display almost impossible to miss as you walk past.
What makes this display especially eye catching is the fact that it has been achieved with a chalk marker, rather than a piece of uneven and patchy chalk.
Chalk Pens allow you to create a much sleeker looking design with sharper and rounder edges. We also offer different size nibs so you can achieve the thinner details such as the swirls in the heart!
A chalkboard display isn't exclusive to restaurants and pubs. In fact, this small chalkboard message would make a great addition to any retail shop as a sweet greeting in the entrance.
This has been achieved with a regular piece of chalk and hasn't got such a striking appearance as the first chalkboard paint idea – you could recreate this design with a chalk marker for a bolder appearance!
Lastly, this cute Valentine's Day pun is sure to bring a smile to the faces of any couple! Even though this is a greeting card, you can use this as inspiration and come up with your own such as "We go together like strawberries and cream" and so on.
If you want to go the extra mile for your customers, you could even wait until they have ordered and make a pun that revolves around their food order and bring it out when they are being served. This will definitely make your customers feel the love!
And there we have it! 3 romantic chalkboard paint ideas for businesses. We hope we've inspired you to pick up a pen and let those creative juices flow.
Feeling Inspired?
As we mentioned, your designs will look a whole lot better with a Rainbow Chalk Marker. View the whole range by clicking here – or buy an assorted pack directly below in the product box.
In addition to this, a fresh looking chalkboard will make your design POP. Sometimes after years of use, chalkboards can be marked and stained. A fresh lick of paint will get your chalkboard looking like new. Click here to see our chalkboard paint.
Learn chalkboard paint hacks for the home and business here!