Happy Customer Reviews Our Sealant Pen! Easy, Affordable DIY
Sealant around baths, sinks and showers gets grubby really fast. Trouble is, ripping it out and re-doing is a massive pain and takes ages! Traditional bleaches or mould sprays can be stinky and not great for anyone with breathing issues.
Well, what if we said there was an alternative? What if we then said it's really easy. And… wait for it… cheap! Ready to bite our hand off yet?!
Rainbow Sealant Pen to the rescue!
Alex, a customer from Southend-on-Sea, achieved a great new look in her bathroom with one of our Sealant Pens. Check out the difference!
Alex told us: "The sealant bugged me every time I cleaned my teeth or washed my hands. The flat is rented so I didn't want to totally re-do it but I hated how it looked. It made me feel like it was never clean – utter cringe!"
How does the magic happen?
Alex followed this simple process to revive her grotty sealant:
Ensure silicone sealant is dry and free of dirt and grime
Shake the Sealant Pen well
Gently pump the nib 15-20 times until the ink starts to flow and saturates the nib
Draw along your sealant, holding the pen at a 45 degree angle to allow ink flow
Don't apply pressure to the nib while you draw to avoid damage and prolong precision
Pause and pump the ink into the nib again if ink becomes sparse
Wait for ink to fully dry for 2 hours
Repeat process 2-3 times depending on severity of discolouration
Once all coats are fully dried, your sparkling white sealant is completely waterproof and ready to enjoy!
Clean sweep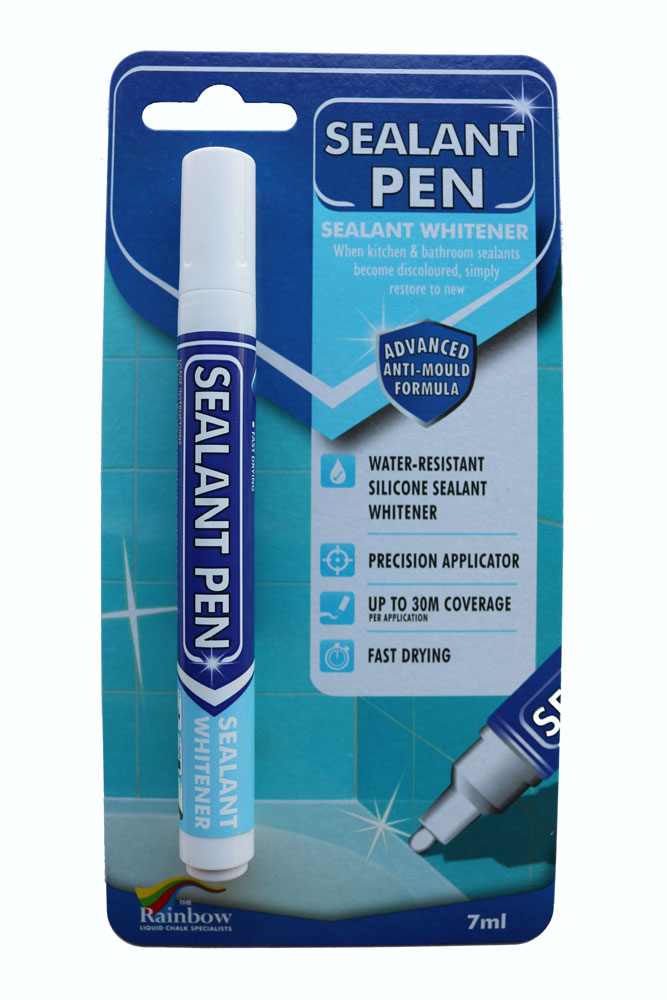 There was no stopping her then! She was that happy with the result she went on to do her bath and kitchen sink sealant too. And all out of just one sealant pen which is now tucked away ready for touch-ups if needed. Even the nib is reversible to get those lovely sharp lines for twice as long. That's what we call a bargain!
Alex also told us "It was so easy to use but made such a difference! I feel better in myself now it looks so much cleaner. I still can't believe such an effect was so affordable, it's a brilliant way to brighten up your home!"
Our happy customer finished with this testimonial and was last seen wandering off with a toothbrush and a big smile…
"Would definitely recommend using one of these nifty pens. Really cheap way to brighten your sealant up. A little bit of effort creates a huge difference. Easy to use and great results"
Seal the deal
You too can be as happy as Alex! Click here to check out our Sealant Pen product page and get started on the cheapest, easiest way to upgrade your sealant! Or use the product box below to add straight to your basket.
FIRST TIME BUYERS GET 10% OFF WITH DISCOUNT CODE ftb10