Shabby chic is a trend that's been popular for over 30 years, since the term was first coined in the 1980s, with Ideal Home even declaring it as 'one of the most popular trends ever'. You may have seen it online, in magazines or even in other people's homes. Maybe you want to create this look yourself but don't really know where to start. 
We've put together this guide all about shabby chic, how you can achieve the look and whether it will be going out of fashion any time soon. 
What does shabby chic mean?
The term 'shabby chic' was created by interior designer Rachel Ashwell. She founded a furniture shop that first opened in California in 1989 where she sold furnishings that boasted 'the beauty of imperfection'. And that's what shabby chic is all about – restoring furniture while still giving it a distressed, 'imperfect' finish. 
Over the years, shabby chic has evolved slightly. It no longer just describes stressed furniture, but also the ornate style of the furniture and the colours used in the room (mainly neutrals and pastels). It claims a soft, dreamy finish and is perfect for those on a budget who may want to try upcycling a piece of furniture themselves.
What does shabby chic look like?
Shabby chic is a very versatile trend and is quite easy to incorporate into your home. It's a wonderful look for those with smaller homes as the light and airy colours are inviting while also making the space feel larger. But how do you create this look?
Use lots of neutrals
The key to this look is the use of neutrals. White or cream walls paired with pastel pinks or blues will look casual and cosy and create the perfect backdrop for your furniture. To add a coastal vibe, flooring should be white or cream. If you have floorboards, giving them a distressed finish will work perfectly. 
But remember, you don't want the space to feel flat, which can happen if you're using lots of neutrals. To avoid this, it's all about the detail and texture. Use plenty of layers on the floor, for example, you could add a rug to bare floorboards. Use plenty of throws and cushions to soften the room, and introduce bits of colour here and there.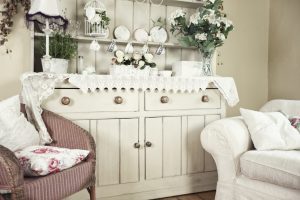 Add some French-style details
The shabby chic trend incorporates lots of French-inspired design elements, which is why it summons images of stylish Parisian apartments and ornately decorated French brasseries. You can bring a touch of France into your home by adding distressed gilded mirrors or bedside tables with tall, thin legs that curve into little feet.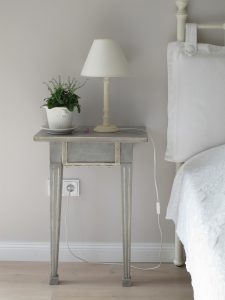 If you don't want too much ornate detail, you can find modern alternatives, like the distressed grey bedside table pictured above.
Combine rustic with glamorous
Mixing distressed, rustic furniture with glamorous gold or silver touches works really well. You could add a silver lamp to an end table or a large gold mirror to a brick wall. These will balance one another out to create a luxurious feel.  
Revel in vintage
If you love vintage, now's your time to shine. Shabby chic works best when old and modern are combined, so mix your new sofa with your antique coffee table, or your vintage bed frame with modern lighting. Vintage is fashionable, and usually comes at a reasonable cost, so head to your local charity shop to see what you can find.
What type of paint to use for shabby chic?
There are lots of different ways you can upcycle a piece of furniture to make it look more rustic. We've outlined a few steps below on how to achieve a distressed look using shabby chic chalk paint.
Step 1: Pick two paint colours. One will be the top coat which will be sanded in places to reveal the second colour underneath. We'd recommend choosing a darker colour for the under layer and a light colour on top. 
Step 2: Wipe down the surface of your item to ensure it's clean. If the item has previously been waxed, remove the wax with white spirit and a dry cloth. 
Step 3: Stir the paint thoroughly. 
Step 4: Using a brush or roller, apply the colour that will be mostly hidden. Spread the paint evenly, following the grain of the wood. 
Step 5: Allow the first coat to dry before applying your second, top colour. 
Step 6: When both layers have dried, use some sandpaper or a scourer to finely remove the top coat in places, allowing the second colour to show through.
Step 7: Finish with a coat of furniture wax.
This chest of drawers has had a gold undercoat and an off-white topcoat. You can see where some of the edges have been sanded to allow the stunning gold colour to shine through.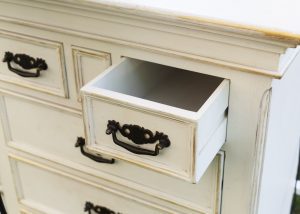 Remember that chalk paint can be applied to brick, plaster, stone or plastic, so you don't just have to use it on wooden furniture.
Is shabby chic still popular?
Interior trends move a lot slower than fashion ones. What's 'in' fashion can come and go so quickly, whereas interior looks tend to hang around for longer. You even find that they come back around every few years. 
If you're worried that you'll invest in the shabby chic trend, only to have it disappear in a few months time, don't worry. It's a style that has been around for a long time. Upcycling is more popular than ever, particularly because it gives you the freedom to strip and repaint items every few years if you wanted to. We think shabby chic is here to stay.