We couldn't resist showing you this beautiful shabby chic console table that one of our clever customers upcycled using Chalk Furniture Paint in Clotted Cream!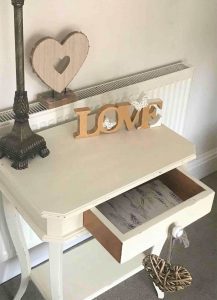 This gorgeous piece looks like it could easily cost £200 from a retro furniture shop but was achieved for a fraction of that price – and just look at what it started as!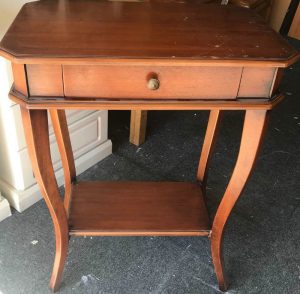 Nice shape, shame about the rest, huh?
Don't have a console table to shabby chic?
Not a problem, you can achieve this on so many items! Our matte finish, water based paints will quickly and easily cover
bare, painted or varnished wood

brick

stone

plaster

any suitable primed rigid surface like metal or plastic.
Take a look around your home and imagine some of your tired old pieces completely re-invented… the hardest part is choosing a colour! You don't have to stick to whites and creams, a few standout items in Antique Gold or even Metallic Red could really upgrade your décor for very little cost or effort. Much more satisfying and cheaper than buying new!
Shabby Chic Console Table – how did she do it?
Very easily, actually! With no need for primer or undercoat you only need to clean and dry your item and remove any areas of flaking from the previous finish.
Apply a couple of coats of your chosen shade of Chalk Furniture Paint – we have 37 colours in mattes or metallics so you're bound to find your favourite. We have perfected our chalk paint so that the rich, creamy and thick paint glides on like a dream. It covers previously painted or varnished furniture without a problem and dries quickly. It's also non-toxic so anyone can pick up a brush and join in!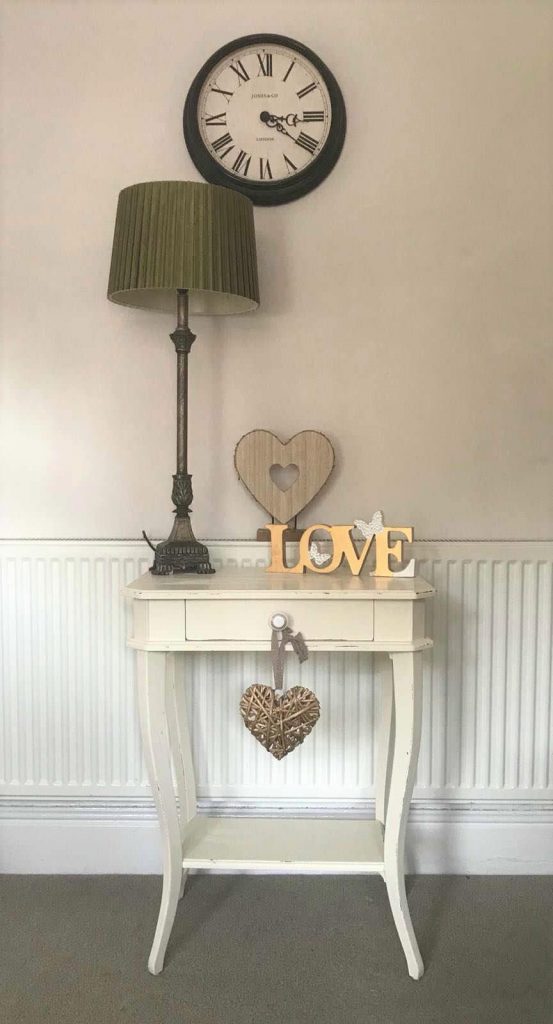 Now, to get that oh-so-expensive shabby chic look, use sandpaper on some edges and corners. Think about where it would have been brushed past or caught some knocks over the years – that's where you rub.
Once you've got the perfect paint effect, protect it with a coat of Shabby Chic Furniture Wax. Not only will this seal in the beautiful paintwork, it adds a subtle semi-gloss sheen to really show off your (not very hard at all!) work.
All there is to do now is add some accessories and wait for everyone to enviously wonder how much you paid for such a gorgeous console table, or dining table, or TV cabinet, or wardrobe, or kitchen cupboards… the possibilities are endless!
Finishing touches
We really liked the finishing touch this lady added to her shabby chic console table, did you spot the scented drawer liner? What would you add as a personal flourish? Some hanging crystals? Maybe a little bling? Take a look at the huge range of colours and pick what to paint first! Use the product boxes below to add Rainbow Chalk products to your basket.
Don't forget our paint is non-toxic and easy to clean from skin so how about a rainy day project with the family? Letting your teen express themselves on their chest of drawers or homework desk? The sense of achievement is fantastic and anyone can do it!
We love seeing what you create so please send your before and after pictures to info@rainbowchalk.com and you could be featured on the blog just like this fantastic customer!