Want a beautiful Shabby Chic bedside table without the ludicrous price tag? Make your own with chalk paint!
Sarah, a professional who up-cycles furniture with our Shabby Chic Chalk Paint, shows us how to turn a drab wooden side table into a Shabby Chic masterpiece.
For step by step instructions, just scroll down!
The Before: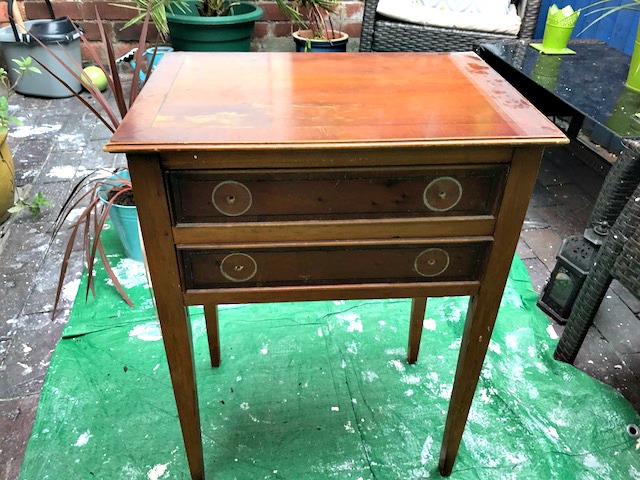 The table above is what Sarah had to work with. A lacklustre wooden side table that doesn't look as though it was shown much love. But Sarah was going to give it a Shabby Chic makeover and bring it back to life!
This table shape is absolutely brilliant for up-cycling. The tall and slender legs will give this piece an authentic Shabby Chic feel.
How Sarah Transformed Her Dreary Table
First, Sarah wiped down her table to get rid of any dust and dirt. This ensures the paint can glide on and leave a silky smooth finish.
Then, she went straight in with our Chalky White furniture paint, without sanding or adding a primer. Our chalk paint is richly pigmented and offers a fantastic colour pay-off so you don't need to waste time priming your furniture!
SARAH'S PRO TIP:

Never sand down dark wood with a reddish / brown tone, such as mahogany! The red pigment inside the wood can seep through to the surface if sanded and bleed into your furniture paint, leaving a pink hue. 
Next, Sarah let the table dry for around 30 minutes before applying her second coat of chalk paint.
For the finishing touches, Sarah added a layer of our clear furniture wax to seal and protect her beautiful paint job, and added some crystal knobs!
The Finished Shabby Chic Bedside Table: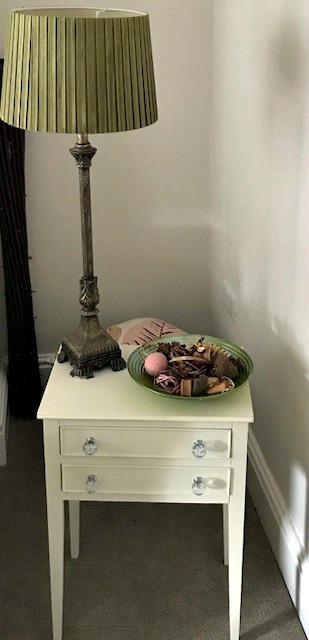 A tin of Rainbow Shabby Chic Chalk Paint, a paint brush, some furniture wax and 4 crystal handles later, Sarah achieved this modern shabby chic bedside table.
And you can do the same!
If you haven't already looked at Shabby Chic furniture prices online, you might be shocked to know that something like this normally sells for between £50 – 100!
But why spend that much when you can get crafty and up-cycle existing furniture for only £17.99 – the price of one of our 1 litre paint pots.*
Looking for a more colourful design for inspiration?
Check out our last post where Sarah makes a green palm leaf print table!
Feeling Inspired?
See our full range of matte and metallic shabby chic paint colours here. We've got 37 different shades to choose from, so there's something for everyone – modern and sleek, bold and bright and Shabby Chic classics!
To feature on our blog and show the world your creations, send in your before and after pictures to info@rainbowchalk.com with your name and contact details.
*Price as of August 2017 – prices may change