Rock concerts, incredible outfits and boys.
A combination that bizarrely had an adverse effect on my bathroom tiles.
As a mother, I've seen the highs and lows that my children have experienced as they've grown up. The fads, fashions, retro and new wave things that make up being a teenager.
It was part of one of these fads that my daughter, in a rebellious act designed to attract attention at an upcoming gig, decided to dye her hair purple.
Yes, in the mind of my wonderful teenage daughter, the world would be easier and more wonderful with purple hair – Purple hair that was to be given life IN MY BATHROOM.
Purple Grout…
Spurred on by her younger cousin, the pair managed to cover my wonderful, pristine tiles in luminous purple hair dye in a matter of minutes.
Had they cleaned the tiles straight away, maybe I wouldn't be writing this now. The fact is, they did not.
Now, I don't regard myself as a mean person, but I do take discipline seriously. My daughter scrubbed those tiles until I could see myself in the reflection, without a purple halo.
Yet, the dye in the grout remained and though you can use coloured grout to create interesting looks in your bathroom, it wasn't the look I wanted.
I tried everything short of re-grouting the entire bathroom, from bleach to elbow grease. At the time I thought that nothing would remove hair dye from bathroom grout.
Eventually I gave up and re-tiled the entire bathroom.
To be honest it was due anyway, but if I had known the solution I know now, then maybe it could have been put off a few more years.
The potential saviour of my problem?
The Grout Pen.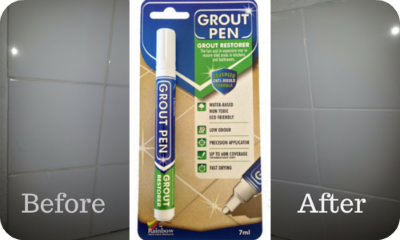 When I saw reviews and pictures like this on the internet a few months after the tiling was replaced in my bathroom, it was more than a bit gutting. But you don't have to suffer too.
This is a pen that rejuvenates your tired looking grout with the ease of using a highlighter.
The grout pen negates the need to take out the old grout and put new grouting in, a job that is expensive, time consuming and leaves you without a usable bathroom while it's being done!
Remove Hair Dye From Bathroom Grout in three steps:
Remove the lid
Prime the pen – press the nib in and pump
Apply to a dry grout surface
Just, wait for the grout to dry and you're done. For a complete guide to the Rainbow Grout Pen read this article!
The moral of this story? Don't let your teenager dye her hair purple in the bathroom without supervision and always have a grout pen handy in case there are any slip ups! This little miracle worker will save you a ton of money and effort re-grouting your bathroom.
The pen comes in a range of colours and even contains an anti-mould agent for lasting protection.
Check the Grout Pen product range here or order yours using the boxes below!