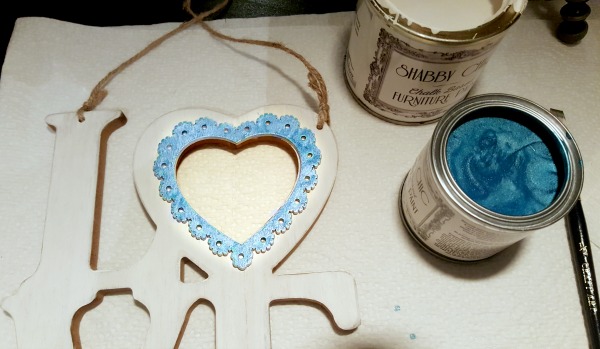 Handmade Valentine's Day Gift For Romantics On A Budget
February 14th can be a hard time of year for romantic souls on a tight budget. We can't all afford diamond earrings or a Rolex watch for our other halves, but they deserve more than a tin of Quality Street from the corner shop…
Good news! You can make an affordable handmade Valentine's day gift that shows your devotion.
In this post we will teach you how to paint a personalised shabby chic photo frame that's a guaranteed winner!
Hand Painted Valentine's Day Gift
To start, here's what you'll need:
A plain, cheap picture frame
A paint brush
Newspaper / Kitchen roll
A lovely picture of you both
And now the magic happens…
How to shabby-chic your picture frame
You may be wondering why you'd go through all the effort to paint a picture frame instead of just buying one from the shop. These days, you can end up paying £15-20 for a lovely picture frame and you can achieve the same look with a cheap frame and a lick of paint!
Click here for an in-depth guide to shabby chic-ing furniture with a distressed look.
Preparing your work space
There isn't a lot of work involved in this step, but you will need to choose a time that your other half isn't likely to walk in and catch you. Then, all you need to do is lay out the newspaper or kitchen roll on the table, get your paint brush at the ready and remove the lid on your paint.
Hand-painting the frame
Remove the back of the frame, along with the glass to ensure you don't get paint on it. With your chosen colour, use long brush strokes to create a smooth finish.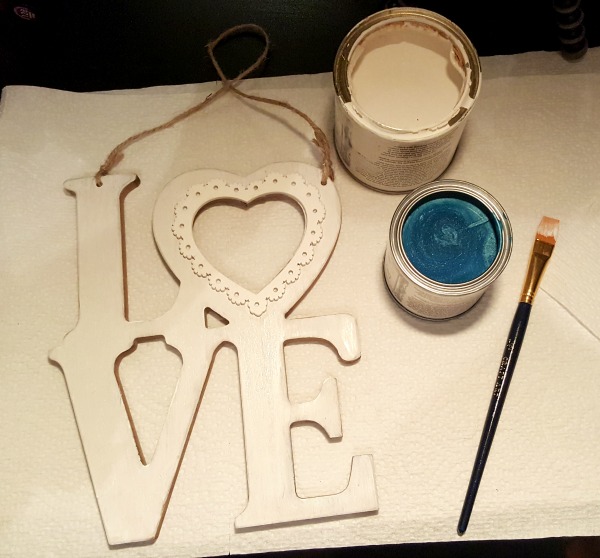 You may need 2 coats depending on the finish you are after. If you desire a rustic look where the brush strokes are visible, one coat will be fine.
We used 2 coats of Chalky White paint over this light brown frame.
Allow it to dry for an hour
After an hour, your frame will be touch dry and ready for you to start personalising!
Personalising the picture frame
Once the frame is touch dry, you can personalise it. How about using a different colour to:
stencil the date you met
stencil the amount of time you have been together
write a quote or message such as "All my love…"
draw little hearts or another pattern on the frame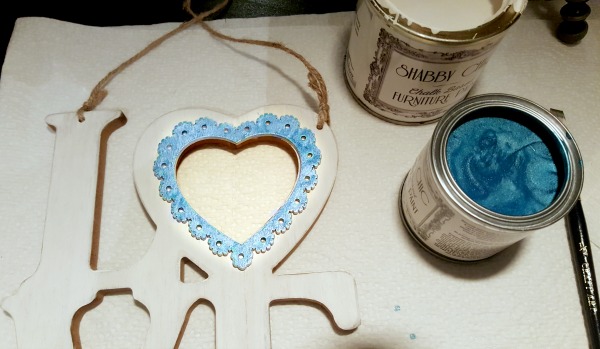 In our example we painted the frill detail around the picture holder in Metallic Blue!
After you have finished the details, allow to dry for a few hours. After 2 hours, your thoughtful Valentine's day gift will be dry enough to wrap up!
Getting In The Valentine's Day Spirit
Even if you don't have a special someone to give your handmade gift to, you can always make this a gift for your best friend or family member to show your love and appreciation!
When your partner opens their handmade Valentine's day gift, they'll appreciate it much more than a box of chocolates or a bunch of roses. A beautiful shabby chic photo frame is the perfect addition to any room and a gift they can keep forever.
Get Your Shabby Chic Paint Here
You can buy your small project sized tin of shabby chic furniture paint in the product box below, but why not buy a bigger tin to complete more home DIY projects! Check out how this customer up-cycled her coffee table. Get your 1 Litre tin below or see our entire range of 37 matte and metallic colours by clicking here.
FIRST TIME BUYERS GET 10% OFF WITH CODE "ftb10" – USE AT CHECKOUT