Two words that we love here at Rainbow chalk are EASY and DIY.
DIY shabby chic furniture painting has never been so easy! We've got another great example of how you can use our furniture paint to transform a dull looking chest of drawers into a sophisticated TV stand.
And, with Christmas right around the corner, why not revamp the dining table and chairs before the family come over?
Here's how Tracy, who works here at Rainbow, used the paint to jazz up her front room at home.
Tracy's DIY shabby chic furniture painting experience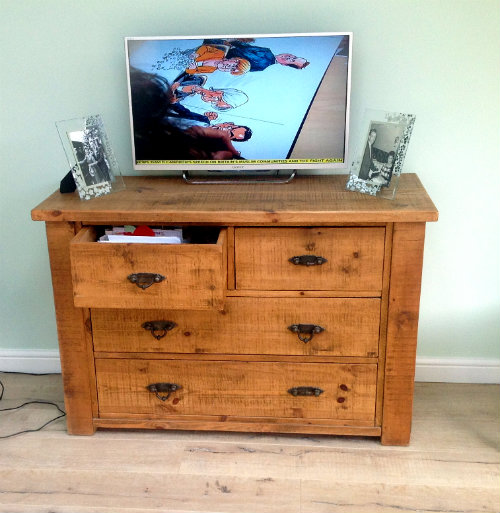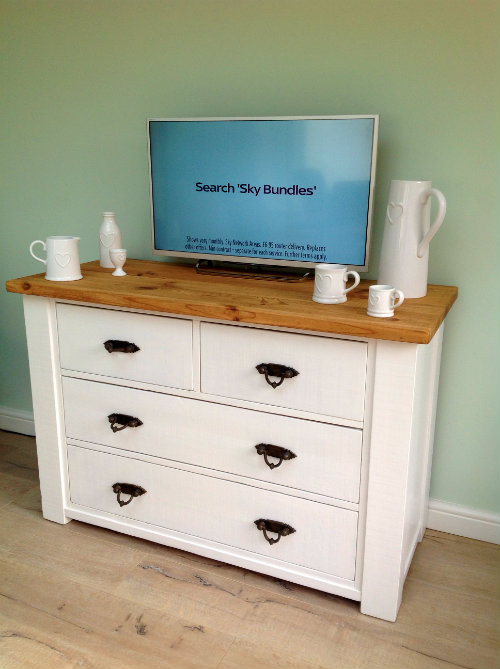 Have you read our previous post? Tracy finished off the remaining paint from her dining table project to complete this chest of drawers!
Tracy used our Chalky White furniture paint, which complements the light wooden floors and the pastel green walls.
If you want some inspiration on which colour to include, learn about choosing the right colour paint for your home, or have a look at our products page to view our new range of colours!
No primer was needed to start the shabby chic-ing process off.
Why? Because our paint is so thick and pigmented that it will cover most varnished or unvarnished surfaces without a problem.
The whole process took between five and six hours in total, including the drying time.
"I am delighted with the result. It really has transformed the furniture at a very little cost. Just a bit of effort – it couldn't even be described as hard work!" – Tracy
Want a step by step guide on how to paint your furniture? Read our previous post: Shabby chic furniture painting in 10 simple steps
Feeling inspired?
Rainbow Chalk Shabby Chic Furniture Paint is perfect for your home DIY projects! Get your family and friends talking this Christmas with your shabby chic furniture.
Our matt finish, water based paints can be used directly on wood (bare or painted), brick, stone, plaster or any suitably primed rigid surface (metal, plastic, etc).
Buy your Chalky White paint below or CLICK HERE to view our full colour range.