Choosing The Perfect Shabby Chic Paint Colours
Now that you've learnt how to shabby chic old furniture from our last post, it's time to decide on your colour scheme!
Whether you're rejuvenating an old dining room table and chairs, or your vanity unit, our wide range of 38 metallic and matte colours are sure to complement your home.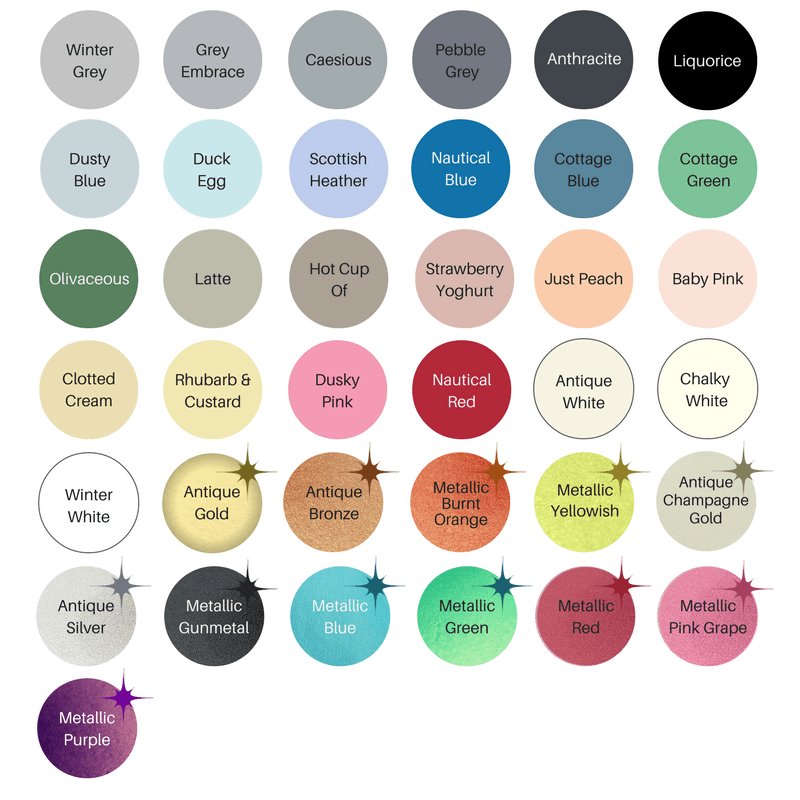 Neutrals
Chalky White
It's a given rule that any piece of furniture you paint with chalky white paint will look fantastic – no matter what the room's colour scheme is!
You could try the dining table for a chic look against light wood floors, or your chest of drawers…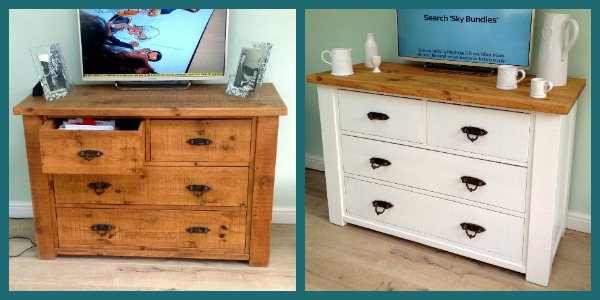 Clotted Cream
Make a dreary piece of furniture stand out against beige and brown shades with a lick of clotted cream furniture paint. With a slightly yellowish tone, it adds warmth to the room.
Hot Cup Of
This milky coffee shade will add a modern and inviting tone to a white or cream based room. It's not too dark that it will draw the eye, but the warm tone will add contrast.
Metallic furniture paint
Antique Champagne Gold
Add class to any piece of furniture with a champagne gold colour – perfect for your chest of drawers or vanity unit. See our unit below!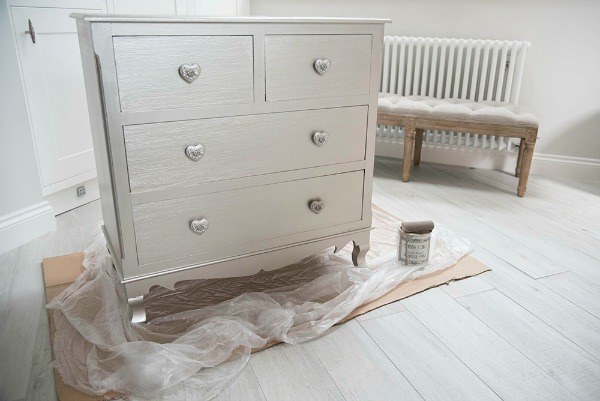 Metallic Gunmetal
Do you have black leather couches in your living room? Nothing says style like a pair of matching gunmetal side tables. Metallic furniture ads flair to any room…
Metallic pink, purple, blue and green
Give your little princess a royal bunk-bed or your animal loving boy an alligator green toy chest. Our fun metallic colours are perfect for kid's rooms.
Vibrant shabby chic paint colours
Make an old piece of furniture POP with one of our vibrant shabby chic furniture paints.
Nautical blue
This vibrant blue sets a relaxing tone in any room. We suggest using this colour in your living room, bedroom, or bathroom.
Dusky Pink
A bright pink shade will add a girly touch to any piece of run-down furniture! Try painting your bed frame or windowsills with this colour.
Cottage Green
This rich green looks stunning against dark wood or rooms with accents of chocolate brown. Do you have dark hard-wood flooring? Try painting a side table or computer desk with this vibrant green.
Vintage effect
Dusty Blue
Looking for the perfect vintage shade for your shabby chic project? This greyish blue would look lovely in your dining room or conservatory.
Winter Grey
Add a winter touch to your home by painting your furniture with this chic and modern grey. Why not use this in the kitchen?
Strawberry Yoghurt
This muted, chalky pink is just the right balance of feminine and sophisticated. Paint your wardrobe or vanity unit with this colour for a vintage effect.
Monochrome shades
Anthracite
This dark grey/ chalky black will contrast light rooms. For an ultra-modern look use this colour to paint only the top of a white chest of drawers.
Pebble Grey
Slightly lighter in shade, this colour will give a sophisticated touch to any room. Why not mix and match with our Strawberry Yoghurt shade?
Winter White
Shabby Chick furniture can look stunning in white. The distressed areas really show up against the white and make the piece look authentic.
Something for everyone…
Rainbow Chalk Shabby Chic Furniture Paint is perfect for your home DIY projects! Check out how homeowners like you use shabby chic furniture paint here.
Our matte and metallic finish, water based paints can be used directly on wood (bare or painted), brick, stone, plaster or any suitably primed rigid surface (metal, plastic, etc).
Take a look at the selection of colours here, or order yours using the product boxes below.