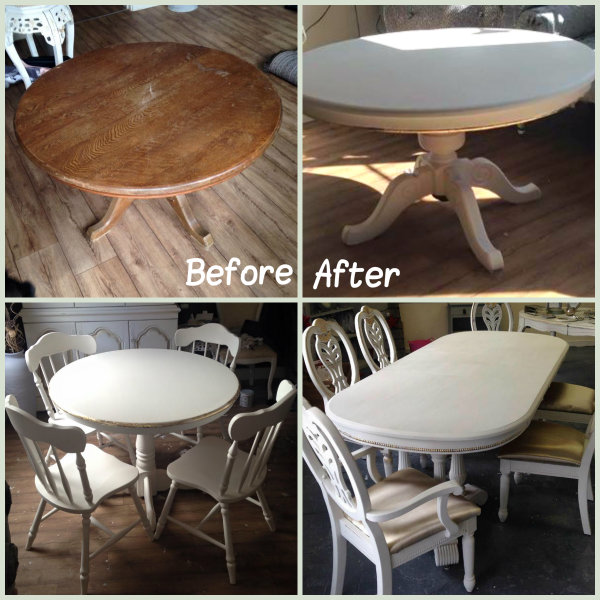 How To Create A Shabby Chic Dining Table
A shabby chic dining table is a wonderful addition to a dining room. It turns an old, unloved piece of furniture into a desirable, fashionable and useful item.
The two tables above were up-cycled by Candice, a Harlow shop owner who stocks and uses our chalk paint. This gives you a good idea of the colour pay-off from our top quality paint, and is hopefully inspiring you to grab a pot and get painting!
Inspired? Good, let's get started!
What You'll Need:
A table to shabby-chic
Sandpaper
Several lint free cloths
1 – Sand down that old piece of furniture!
The first step to creating your wonderful shabby chic dining table is to sand it down. Don't use a hard sand paper here, you don't want to raise the grain of the wood, just roughen the surface so the paint will take.
2 – Wipe Down The Furniture
Get rid of the dust and dirt from the table by using a damp cloth. Then, wait for the table to dry before applying your Shabby Chic Furniture Paint.
Even if you haven't sanded the table down, ensure the surface is clean and free from wax or oil. If wax has been used, clean the surface thoroughly with white spirit.
3 – Paint Your Table
First off, decide if you want to create a distressed look. If you do, apply two coats in contrasting colours. It can be simple, with a first coat of grey or white and a colour over the top, or you can be a bit more adventurous and mix up your colours. It's up to you, just make sure you leave enough time for the paint to dry before applying your second coat (see step 4!)
It's simpler to just paint one layer, but two will give you a three colour distress, for example: green, white and then wood.
If you don't want to paint certain parts, use masking tape to cover these areas to give you nice, straight paint edges. With Shabby Chic Furniture Paint, there's no need to use a primer, just get painting!
This paint can be applied by brush or roller. If applying by brush, apply evenly making sure you follow the grain of the wood. If rolling, use a short nap mohair roller for the best results.
Coverage: up to 12m2 per litre. Coverage may vary depending upon method and rate of application and porosity of surface.
Remember: Stir your paint thoroughly before use!
Wondering what colours we offer? Here's a chart of our 37 matte and metallic shades. Click the image to view our full range or scroll to the end of the post to add your paint to the basket.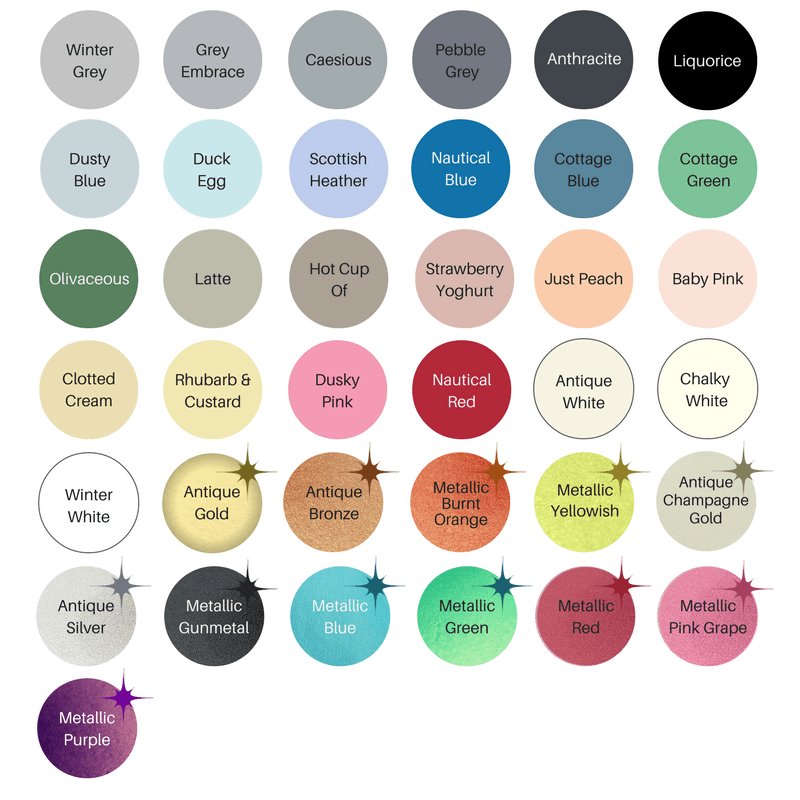 4 – Wait For The Paint To Dry
The paint typically takes 1 hour to be touch dry and 2 hours for it to be ready for handling or a second coat. The paint won't be fully dry for 3 hours – so hold off on your distressing for now!
5 – Creating That Distressed Look
If you've waited the 3 hours then you're ready to distress your table. Lightly abrade the table with moistened sand paper or a stainless steel scoring pad, ensuring you move with the grain of the wood. To get the best results we'd suggest distressing along the corner or other areas where more wear is likely to appear on a table.
6 – Protect That Table!
Furniture wax can be used to protect your table from accidents! Not only will a wax protect your newly painted table but it also leaves a semi-gloss sheen which is a great finish to your furniture.
To do this, gently work the wax into the furniture with a thin coat using a brush or cloth, remembering to go with the grain, or you can use a cloth in a circular motion if you prefer.
Apply just enough wax so you can see a slight sheen then simply buff up with a soft dry cloth.
7 – Clean Up Time
When you're finished, wipe over the surface with a slightly damp cloth. Do not empty the paint into drains – some local authorities have special facilities for the disposal of waste coatings.
8 – Take A Picture Of Your New Shabby Chic Dining Table
Now it's time to show off! Take a picture and share your wonderful new shabby chic dining table with the world using social media.
If you send us the pictures, at info@rainbowchalk.com, we can even include you in one of our blog posts!
And that's it! Take a look at our Shabby Chic Furniture Paint here or get started right away by selecting a matte or metallic colour from the product box below.
Remember, first time buyers get a discount! Just type ftb10 (no capital letters!) into the promotional code box when you're ready to order!