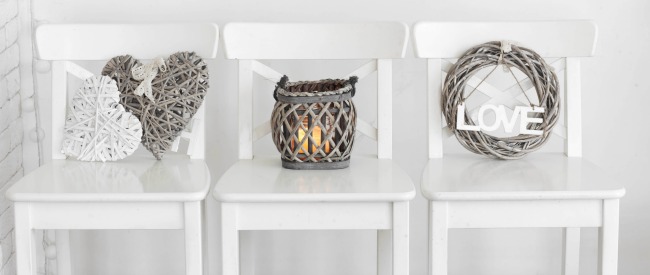 DIY White Shabby Chic Wardrobe On A Budget!
Do you love shabby chic furniture but hate the extortionate price tag? So do we. That's why we manufacture and supply shabby chic chalk paint so you can achieve the same look at a fraction of the cost! Take for instance a simple white shabby chic wardrobe…

You're looking at anything between £300 – 1,000. To us, that just seems utterly ludicrous as we know for a fact that beautiful shabby chic furniture can be achieved with a lick of paint! For example, take a look at this coffee table that a customer produced with a pot of our Chalky White paint.
Instead of clearing out your bank account, you can rejuvenate your existing wardrobe for just a fraction of the cost!
Today, we're looking specifically at a shabby chic wardrobe that we found on Pinterest. This isn't your average white shabby chic wardrobe like those pictured above, this one has been beautifully decorated with craft paper to add a retro twist.
Keep reading for a full set of instructions on how to achieve a look like this! Please note that if your wardrobe has mirror panels on the front and there is no room to add craft paper, you can just paint your wardrobe by following the instructions in the first half of the post.
How To Make Your Own White Shabby Chic Wardrobe 
We're going to break down the steps you need to know to achieve a wardrobe similar to this. If you don't like the colour combination or the pattern of the craft paper used in the example above, you can swap it out to suit your taste. We have a range of vibrant and pastel colours in matte and metallic finishes – click here to see our range.
Here are the things you will need:
A wardrobe
Shabby chic furniture paint (we suggest a 1 litre pot)
Paint brushes
A selection of sandpapers (you don't need these if you don't want a distressed look)
Newspaper or protective film
Craft paper or wallpaper
Translucent PVA glue
A tape measure
Non coloured furniture wax
Step one – Safety first!
Before you start painting, it's best to protect the surface you are working on with newspaper or the clear protective film that builders use. This applies both indoors and out, so that you don't ruin your carpet or your garden decking! A great tip is to secure your protective layer down with tape to avoid it flapping around in the wind or moving.
Step two – Keying down
"Keying down" is the act of sanding down furniture before painting it. By lightly (and we mean lightly) sanding down the wardrobe before you paint it, you will be slightly lifting the grain in the wood, making it easier for the paint to take.
It also gets rid of any dirt or grease build up on the surface of the wood. Be gentle when you're doing this and use a very fine sandpaper – you don't want to be lifting the wood too much!
Step three – Wiping up
Because you've just lightly sanded your wardrobe, there's going to be a bit of dust. Use a damp, not wet, cloth and wipe over your wardrobe to get rid of the dust. Then you'll need to wait for it to dry, but don't worry, this shouldn't take too long at all.
Step four – Masking and removing
This part applies if, like the pin we showed you, you want to add decorative craft paper to your wardrobe. If not, skip this step. If you want to add craft paper to the front of drawers, just remove them so you don't accidentally get paint on them.
If the areas you wish to paper are on the front of the wardrobe, you may want to add some masking tape around the border so you don't go over these areas with paint (this would just be a waste as the paper will cover it!)
This is also the time to unscrew any knobs or handles.
Step five – The good stuff!
Time to turn your existing wardrobe into a beautiful white shabby chic wardrobe! Because our paint is so thick and pigmented, you won't need to apply any primer! Two coats may be needed for the best coverage depending on the size of your wardrobe.
For a rustic look, paint with a brush so you can see the brush strokes once the paint has dried. Alternatively, for a more modern look, you can paint with a roller for a smooth and clean finish.

Step six – Make a cup of tea
Now your shabby chic wardrobe is going to take a few hours to dry. If you're painting it outside on a warm day, you can expect it to dry quicker. But make sure small children and pets are kept out of the garden at this time to avoid unwanted paw/finger prints!
Depending on how many coats you need, you may have to repeat steps five and six again.
If you applied masking tape, you can remove this once the paint has dried.
Step seven – Distressing
If you are going for a clean look without exposed wood, skip this step!
Now for the fun part! Distress your piece of furniture by rubbing it with a medium grade sandpaper to reveal the wood beneath. Personalise your furniture the way you want, creating only a slightly distressed look, or going all out to make the item look really 'shabby'.
Once you have achieved your desired look, sand your distressed areas down with a softer sandpaper to help blend the paint and wood together. This gives a more natural look.
Traditionally, you would sand areas like the corners and edges as these are the places that would naturally get distressed after years of use.
Step eight – Wax on, wax off
This step is optional, but you might like to lightly rub a thin layer of clear furniture wax over your new wardrobe. This will help to seal the paint, prevent the paint from being scratched off and protect the exposed, distressed wood.
Now you're left with a white shabby chic wardrobe! You can leave it as it is now or continue reading for the craft paper instructions…
Craft Paper Details
If you're reading this part, it means you're intrigued by the retro craft paper twist. So we're going to explain how to achieve this look.
Step one – Choose your craft paper 
In the example at the top of this post, you can see that this wardrobe features two different types of paper with contrasting patterns. Decide whether you want one type of paper or two.
You can buy thick craft paper from most craft stores, otherwise, you can even opt to use wallpaper. The paper needs to be thick so that it doesn't disintegrate on top of the glue and to ensure that it doesn't rip.
Step two – Measuring up and cutting out
Once you have your desired paper, you will need to measure the spaces you wish to decorate. For this, you will need a tape measure. Once you have your measurements down, go ahead and cut your paper to size.
We recommend drawing on the back of the paper lightly with pencil so that you get clean lines. Otherwise, it could end up looking wonky!
Take your time with this part.
Step three – Glueing down the craft paper
Now it's time to stick those bad boys on! Get yourself some PVA glue, the type that dries translucent. Ideally, you don't want any glue spillage on your pristine white shabby chic wardrobe. But, if any glue does get over the parts you just painted, at least it will dry clear and you can peel it off gently once it has dried.
Turn the paper over and add a thin layer of glue over the entire back-side. Less is more, and this will reduce the chance of the paper becoming saturated and tearing.
You will also want to leave a 2cm gap around the edges of the paper otherwise, when you smooth the paper down, the glue on the edges will spill out and cover your freshly painted wardrobe.
Once you are happy, stick down the paper by first aligning it at the top and smoothing your way down – ensuring that there are no air bubbles.
VIOLA! There you have it – a white shabby chic wardrobe with beautiful craft paper details!
This is a much more cost effective and fun way to add shabby chic furniture to your home.
Shabby Chic Furniture Paint For Your DIY Projects
If you're feeling inspired, click here to view our full range of pastel, vibrant and metallic chalk paint colours. Alternatively, you can buy some classic chalk paint and furniture wax directly from the product box below!
First time buyers – get 10% off your purchase with the discount code "ftb10"
See our full range of colours below: