Liz Bode, who has recently turned her love for upcycling into a business, has some tips for you on how to make your own shabby chic dresser with our Furniture Paint!
See Liz's step by step guide below: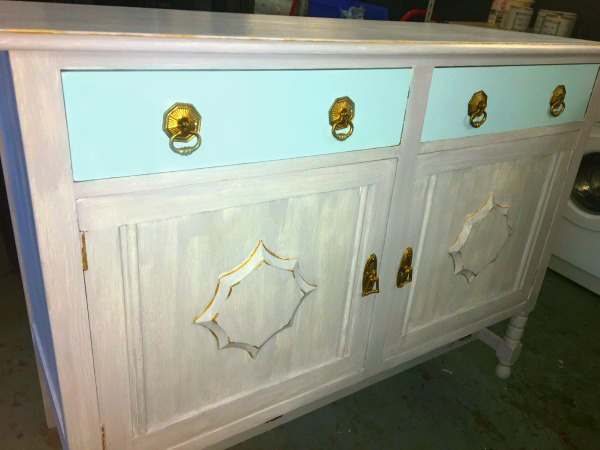 How To Paint Your Own Shabby Chic Dresser
Step 1 – Sand down the wood
Liz sanded down the wood to remove the gloss and shine from the original woodwork. Our luxury chalk paint can be used on primed and non-primed surfaces, however, sanding allows the paint to take to the wood more easily.
Step 2 – Cleaning up the dust
Sanding creates a fine layer of dust, so Liz wiped down the dresser with a cloth to make sure the surface was clean and ready for painting.
Step 3 – Painting the dresser and creating layers
Liz got creative and started an undercoat layer using our furniture paint in Chalky White. After allowing that to dry, she then went over it with a sparing layer of winter grey – The result? A beautiful mink colour!
Tip: Using a lighter hand and a more sparing amount of paint on the second coat allows the undercoat layer to show through. 
Step 4 – Using a contrasting colour for the drawers
A shabby chic dresser doesn't have to be one colour. In fact, it's fairly common to see Shabby Chic furniture painted with a variety of different colours to create a mis-matched look.
Liz used our Duck Egg Blue shade to paint the drawers and add an interesting edge to the piece.
Step 5 –  Finishing touches
Finally, Liz painted the handles and details on the front of the dresser with our Metallic Gold paint. We almost mistook the handles for the originals – they're painted so neatly!
Feeling Inspired? Get Creative With Chalk Paint!
For beginners who need a little more help – see our Shabby Chic Furniture Painting In 9 Simple Steps post.
Or click here to view our full range of Shabby Chic Furniture Paint which includes 37 matte and metallic colours – see them below: