When you're trying to choose your own Shabby Chic furniture paint there's a lot you have to take into consideration:
Which colour to choose
How easy it is to make the paint look distressed
How long the paint will take to dry
How long the colour will last
What will the finished product look like?
Is it easy to remove stains when you inevitably paint something you shouldn't
And more…
Well, we've decided to give you a hand and list the Pros and Cons when considering whether to use an oil or chalk paint base for creating your fantastic shabby chic furniture.
Oil Paint – The Cons
Long Drying Times – Yup, it's a bit like watching paint dry waiting for oil based paints to dry…
Smelly solvents in the paint – They can be quite overpowering, especially if you have a sensitive nose. The smell lingers as well…
Harsh Chemicals needed to cleean brushes – You'll need to leave your paint brushes in nasty chemicals to clean them, not ideal
They yellow prematurely – As the oil content discolours over time, so does your paint. It can be maddening when you've spent hours getting the look of your furniture just right
Needs a good undercoat – Sometimes the undercoat can cost a lot more than the paint. If you think you're getting a bargain on your paint, be aware it may cost you more in the long run!
Not great for shabby chic – It's hard and durable, which in one respect is a good thing! But when you're trying to create a distressed look, it can be a bit of a pain when you're left rubbing and rubbing and rubbing………
Chalk Paint – The Cons
Cost – The paint can cost a fair amount, depending on which brand you go for, but they make up for this by having no need to use a primer!
Oil Paint – The Pros
Attractive gloss – Though most shabby chic furniture looks better without a gloss finish, there are some instances where a glossy look can really make your furniture stand out
Even finish – The brush strokes will fill themselves in, giving you a relatively painless even finish
Very durable – This will be a problem when you're trying to distress your furniture – to give it the shabby chic finish – but will make the item more resistant to scratches and scuffs when it's finished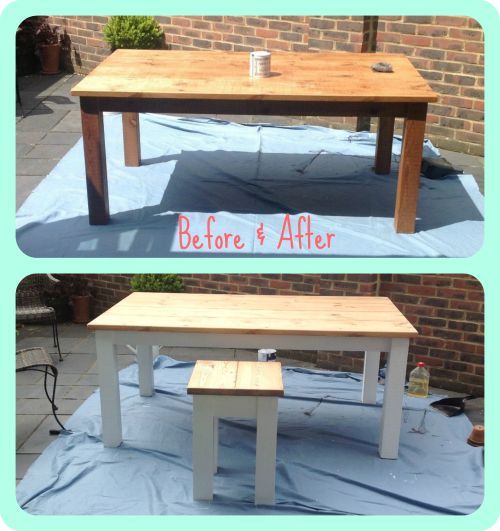 Chalk Paint Base – The Pros
Looks Great – Don't just take my word for it, check out those fantastic pieces of furniture above made by Shabby Chic Furniture Paint user, Tracey. You can read about her experience here.
Hard Wearing – That's right, the chalk paint is hard wearing!
Quick Drying – Though you're still watching paint dry, it's a lot quicker than an oil based paint.
No harsh chemicals needed to clean brushes – Just use soap and water. Now that's better than a bucket full of chemicals.
Doesn't need an expensive undercoat – Where an oil based paint will need an expensive undercoat, the chalk paint is a lot more forgiving, just slap it on.
Specifically designed for Shabby Chic Furniture – I don't really know what to add here. I suppose I'll say it again, it's specifically designed to be used to make shabby chic furniture.
Comes in a lot of great colours – You can see them all here!
So, if you're looking to make your own shabby chic furniture using a chalk paint, then take a look at our Shabby Chic Furniture Chalk Paint. We aren't the only ones who have reviewed the massive differences and with all of the pros of a chalk paint base, it's easy to see why our friend Tracey was so happy with her finished product.