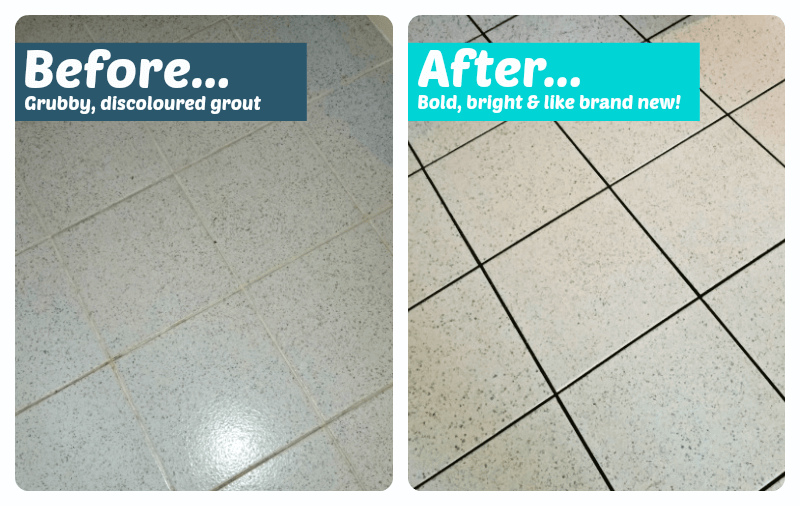 Black Grout Pen Transforms Grubby Grout!
Paul Blackhall, who lives in Basildon Essex, used one of our black grout pens to rejuvenate the grout in his kitchen, and the results were amazing!
What Did Paul Have To Say About Our Black Grout Pen?
"The grout was 20+ years old and now looks brand new…I didn't expect it to work as well as it did!"

"Tracy on reception was an absolute delight… I love endorsing great products!"

Paul Blackhall, Basildon
When we spoke to Paul on the phone, he explained that with just one coat of our black grout pen solution he was able to cover the entire kitchen floor and get the amazing results pictured below.
He also suggested that, for the best results, you should clean the grout before using one of our Rainbow Grout Pens. You don't have to put too much elbow grease in, just wipe over the grout with a damp cloth to ensure any dust and dirt has been removed and then let it dry before using the grout pen.
And there you have it! For more information on how to use our grout pens, read "How To Clean Tile Grout – A Guide For Extremely Busy Adults."
Send In Your Pictures To Feature On Our Blog!
Are you considering rejuvenating your grubby grout? If so, send your before and after pictures to info@rainbowchalk.com with some information on how and where you used our product!
Add a Rainbow grout pen to your basket now by using the product box below. All you need to do is choose a size (5mm or 15mm depending on how wide your grout is) and colour, then click "add to basket". We currently offer white, grey, brown, beige and black grout pens to contrast and complement all tile colours.