Sophisticated Decking Transformation with Rainbow Chalk Barn Paint
We are back with another fantastic customer DIY project. This time, fellow Essex homeowner, Adriana, renovated her outdoor seating area using our hardy Barn Paint.
You might be thinking "Barn paint?! Isn't that…well, just for barns?". You'll be happy to hear that, while the paint was designed with barns and outbuildings in mind, the formula is ideal for a number of outdoor DIY projects.
We'll share more of those details with you further down – for now, let's take a look at Adriana's new peaceful & stylish decking!
From Drab to Fab – Budget Decking Makeover Using Outdoor Paint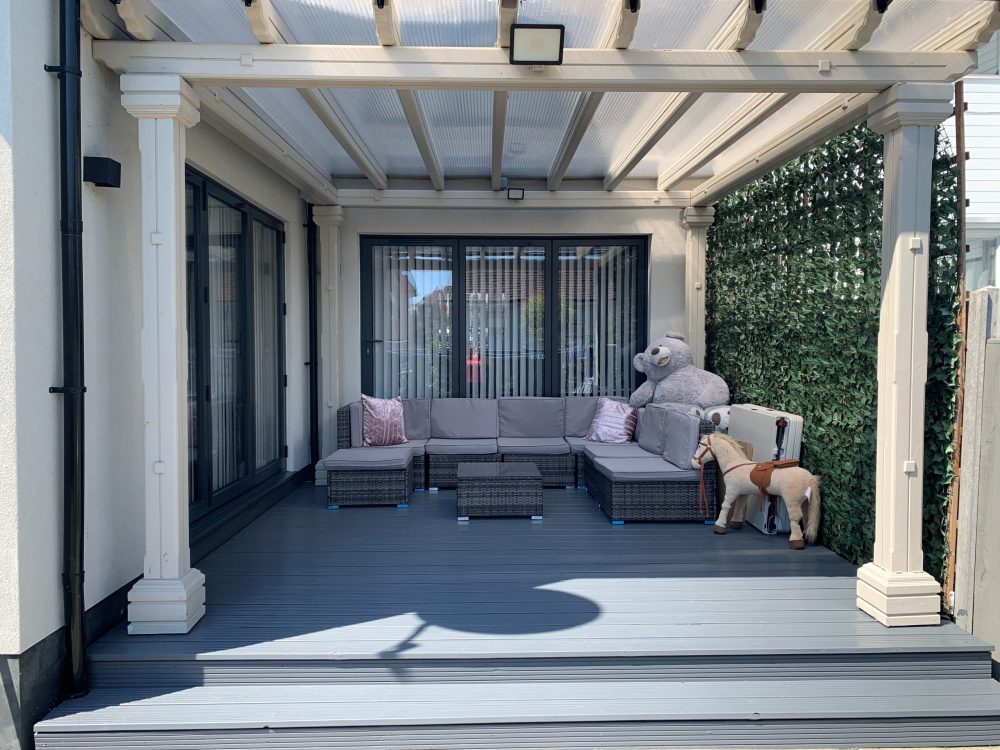 Adriana has transformed her outdoor space from a 'white box cookie-cutter' garden area into a relaxing, sophisticated haven that all the family enjoys!
The whole project only took a couple of hours start to finish, since no primer is required. Using the shade Barn Grey, she applied two coats for an even, opaque finish.
Features we love:
The faux-foliage trellis – Not only does is offer privacy from neighbours, it brings warmth and botanical vibes to an otherwise very simple colour palette.

The columns – A fantastic addition to make your living space feel more regal, sophisticated and architecturally interesting.

The fresh decking paint – offering a smart and well kempt appearance to her garden area that will last through the seasons.
About Rainbow's Weatherproof Barn Paint 
If you have been shopping with us a while, you may recall we had a decking paint line a few years ago. Since, we decided to combine the formula of our best selling outdoor paints under the one product line – Rainbow Chalk Decking Paint.
How our Barn Paint works
We developed this paint range with the unique ability to flex with the underlying layer, which reduces the likelihood of flaking or cracking. Perfect! Because we have all spent hours painting our decking or shed before, only to see it flaking away within a month…
Key advantages:
Eco friendly, water-based paint that is easy to apply and even easier to clean brushes after use.

Mould protection additives to support against mildew.

Water-repellent wax additives which seal out water during wet months.

U.V ray protection to protect colour from sun damage and fading.

Can be used on a number of exterior surfaces, including previously coated wood, metal, plastic, concrete and fencing.
Grab Your Outdoor Paint Today
Available in a variety of colours and tin sizes, try our weather-proof and anti-mould Barn Paint for your next outdoor DIY project!