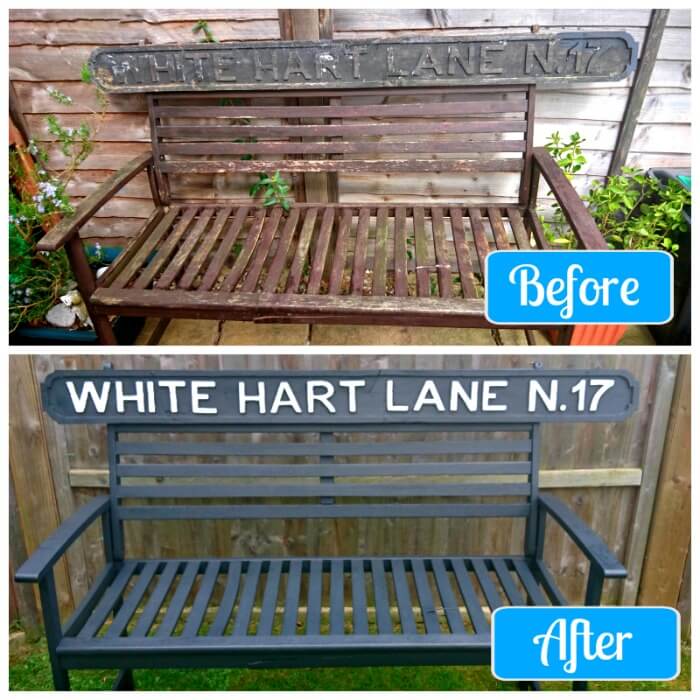 Tracy from Basildon, Essex, is back at it again! Last week, she sent us pictures of her unique decking chair and now she's WOWed us again with her shabby chic garden bench!
How Tracy Made Her Wonderful Shabby Chic Garden Bench
After her latest success using our Shabby Chic Garden Paint, Tracy decided she wanted to transform an old wooden bench into a shabby chic masterpiece!
Here's a before picture: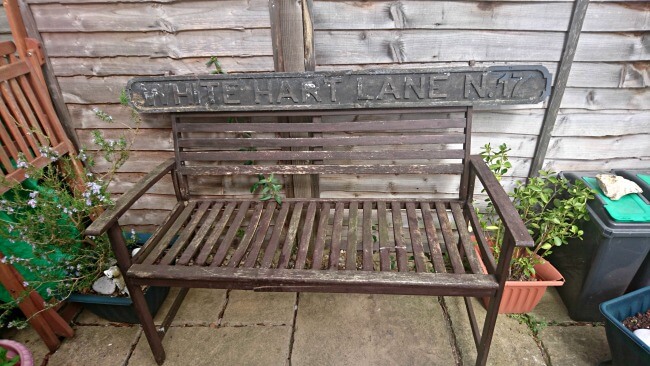 As you can see, the previously used paint has chipped away and left a shabby but not so chic appearance.
So, Tracy ordered some of our Garden Paint in the colours Post Black and Petal White and got to work! All she had to do was:
Stir the paint thoroughly
Clear the work area to avoid spillage on other garden decorations
Apply the paint to the bench with a paint brush
Use a smaller brush to paint the lettering on the sign
Wait for the paint to dry
A few coats later, the bench was unrecognisable…
The Finished Product
With little effort, Tracy achieved a beautiful finish on her shabby chic garden bench. We love the contrast between the black bench and the white lettering on the metal sign, despite the associated team! In fact, we think our Shabby Chic Garden paint might just have a better finish than Harry Kane.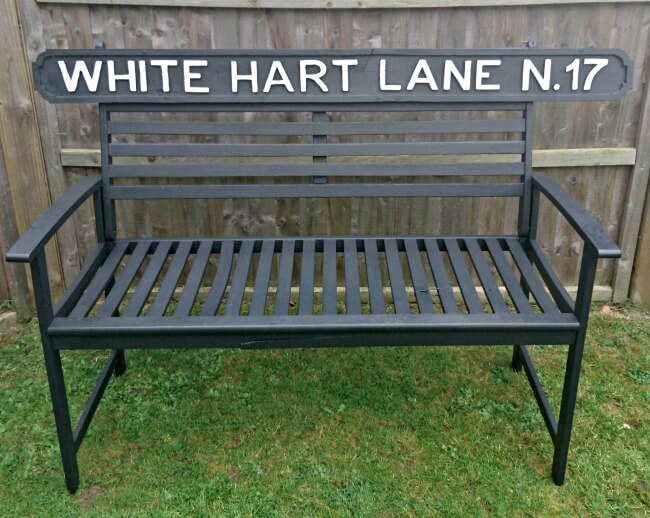 Tracy said:
"I could paint with the Rainbow Chalk Garden Paint all day! It's absolutely brilliant and it washes off your skin easily. Much better than some of the other leading brands!"
Get Your Shabby Chic Garden Furniture Paint Now
Inspired to make your own shabby chic garden chair? Use the product boxes below to:
Select your desired tin size (1 ltr OR 2.5 ltr)
Pick one of our 19 stunning shades from the drop down menu
Add to your basket
FIRST TIME BUYERS RECEIVE 10% OFF WITH PROMO CODE "ftb10" – ENTER AT CHECKOUT!!!