The Perfect Finishing Touch: Grout Pen Kitchen Revamp
It's all too easy to put off kitchen renovations in fear that they'll break the bank. But, while kitchen renovations can be pricey, many people are finding alternative ways to revamp their space for a fraction of the price. This is exactly what Rachel and James did, with help from our Grout Pen!
Rachel and James' Stunning Kitchen Makeover
Rachel and James have a passion for bespoke refinished furniture. Towards the end of last year, they decided to use their knowledge on upcycling to renovate their kitchen. Light wooden cupboards soon became green and dark worktops soon became white. Our 5mm Grout Pen in Dark Grey then got to work on sprucing up the once-white grout.
Take a look at their before:
Followed by the fantastic transformation:
How To Use Our Grout Pens
It's incredibly easy to get flawless results like this – here are a few tips for using our grout pens:
1. Activate The Ink
Before you get to work, you'll need to pump the pen to activate the ink. We recommend pumping between 10 and 20 times to get the best ink flow possible.
2. Glide The Pen Along The Grout
Once the ink starts flowing, you can use it on your grout. Hold the pen at a downward angle and apply it to your grout with steady pressure. You'll soon find that it's just like using a permanent marker. The ink will stop flowing once you stop using it.
3. Wipe Surplus Ink
If needed, wipe any surplus ink with a damp cloth. Our grout pens are famously known for being mess-free, but it's good to have a damp cloth on standby just in case.
4. Let It Dry
Your grout will be touch-dry in as little as 30 minutes, but we recommend waiting for 2 hours so it can settle properly. Once settled, the grout will be waterproof and good to go!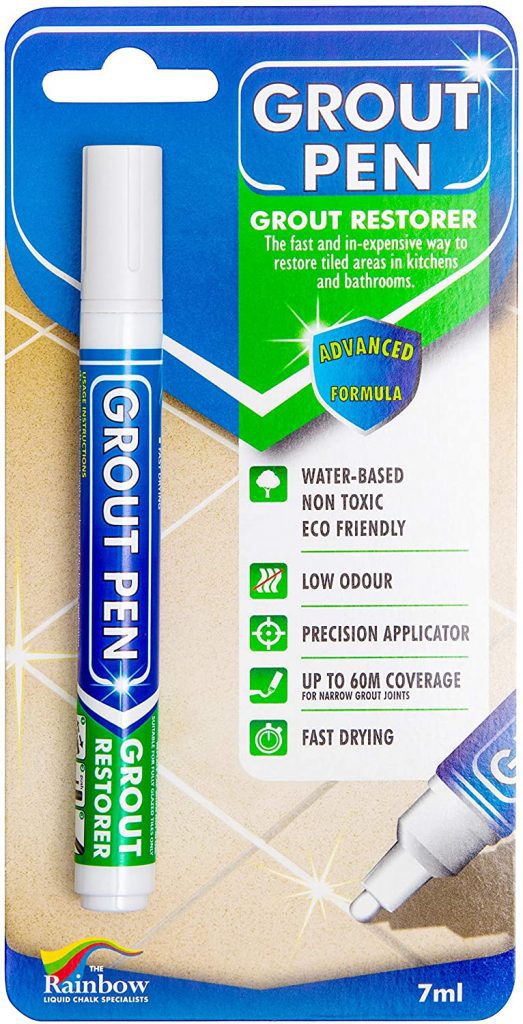 Grout Pens 5mm Nib
Why Use Our Grout Pen?
Just one look at Rachel and James' kitchen proves why our grout pen is so great! Our grout pens restore the look of stained tile grout in seconds. Once dry, the finished result is fully waterproof, making it perfect to use in both kitchens and bathrooms. We even have a variety of colours to choose from, suiting any theme or preference. This includes:
Dark grey (used by Rachel & James)
Winter grey
Black
Beige
Terracotta
White
Appearance aside, our grout pen nibs last longer than most. This is because the nib is reversible, meaning it can be used for twice as long! To assist with the application process, you can choose between two nib sizes depending on the project at hand. You'll never have to worry about uneven grout again.
Shop below!
Whether your current grout needs a revamp or you're redecorating your home, there's nothing our grout pen can't assist with. With quick application and long-lasting results, adding the perfect finishing touch to a room has never been easier.
Shop below!