Quick DIY Halloween Decorations With Window Markers
Halloween can become an expensive time of year for Mums on a budget. The kids want their costumes, trick-or-treating buckets, decorations… the list goes on. As much as you want to keep your little monsters happy… there are bills to pay!
Thankfully, we have a money saving DIY Halloween decoration idea that will keep the kids occupied and last longer than a pumpkin!
See how a customer created a spooktacular design using our affordable, wash-off window markers below:
DIY Halloween Decorations With Non-Toxic Window Markers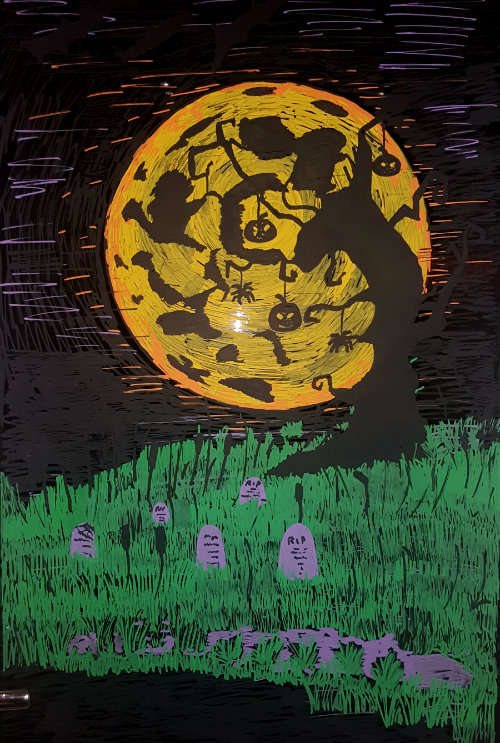 Mandy, a customer from Southend-on-sea, decided to create her own fangtastic DIY Halloween decorations using our non-toxic, easy clean window markers.
Her design consists of a spooky landscape featuring a large moon, a dark sky, a scary tree and a graveyard.
Mandy used our black, orange, yellow, purple and green window markers.
"The markers are easy to apply, are highly pigmented and extremely easy to remove… even after days of it being on the window. Would highly recommend for a fun child-friendly Halloween activity!"
Use our highly pigmented markers to draw on your windows to welcome trick-or-treaters this year!
About Our Child-Friendly Window Markers
Water based ink specifically designed for use on windows and mirrors
Easily removed with a wet wipe, damp cloth or Rainbow Glass Cleaner
Suitable for indoor and outdoor use
Resistant to light showers
Non toxic and child friendly
Available in 10 colours, our Rainbow Window Markers can be purchased individually or in packs of 3 and 5.
Get The Most Bang For Your Buck!
A pack of our chalk-based window markers won't only come in handy for your DIY Halloween decorations. You can also use them for:
Christmas window designs
Easter decorations
Bedroom window decorations
Birthday party signs
Grab Your Window Markers In Time For Halloween!
Halloween is almost upon us, so get your Rainbow Glass Markers today. You can select your pen or multi-pack from the drop-down menu in the product boxes below and add them straight to your basket from this blog post.
Remember, first time buyers get a 10% discount when they enter 'ftb10' at the checkout!
If you want your spooky Halloween designs to be featured on our blog, send your pictures to info@rainbowchalk.com.