Can You Paint Over Wallpaper?
Whether you're moving into a new property or redecorating a room in your home – the thought of ripping wallpaper off the walls is dreadful. In fact, it might even be enough to kill the idea completely!
In an ideal world, the wallpaper would come off effortlessly. But we all know that's not the reality. You chisel away with the scraper, spending hours peeling off tiny little strips and wasting hours of your life you'll never get back.
"Can I paint over the wallpaper…? We've all thought about it, even though we know it's not "best practice".

While it's not always recommended and heavily dependent on the age, texture and placement of the wallpaper – it is definitely doable and with good results.
We're going to dig into how to paint over wallpaper properly, so no one will ever notice you took the quick route!
Painting over wallpaper 101
Before we get your hopes up, we feel it's best to address the potential issues now to save devastation later down the line.
While it's possible to paint over wallpaper, you do need to consider the following points and assess whether you think it's the right choice for you.
The wallpaper might bubble once wet paint is applied over the top (it doesn't always happen and sometimes they flatten out again once the paint is dry… but equally, sometimes they don't!)
If the wallpaper is textured, you need to be prepared to see that texture under the fresh paint. Even the thickest of emulsions won't cover wood chip textures.
The join lines in the wallpaper may become more obvious once painted over, due to a build up of paint highlighting the cracks or overlaps between the sheets.
If you've read all of those points and you're still eager to get painting, read our top tips below.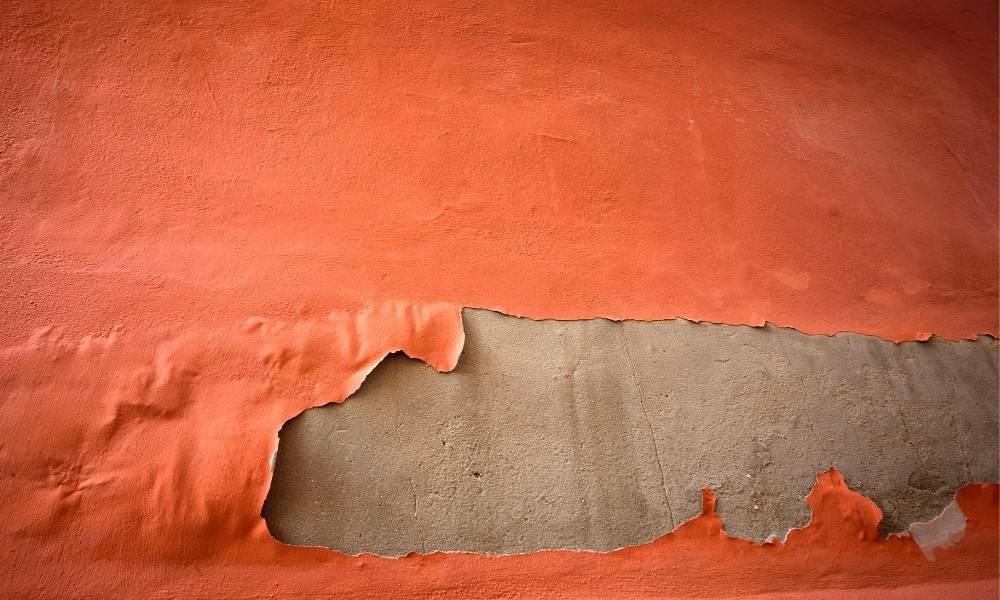 How to paint over wallpaper
Choosing the right paint
Ideally, you don't want to apply too many coats, because the more saturated the paper becomes, the more likely it is to bubble.
We recommend using a thick one-coat emulsion. Our One Home Paint is the perfect choice because:
It's designed to perform like a paint and primer in one
The formula is thick and opaque, ideal for covering wallpaper
It's non-toxic and low VOC so there's no nasty or unnecessary chemicals
Prepping the wallpapered surface
If you're lucky – no prep will be required. You may have perfectly applied wallpaper with minimal texture and you're ready to get painting over the top!

However, if your wallpaper is extremely old or showing signs of wear and tear, you may want to sand sections for a smoother finish.

Sanding must be done with caution. Sand too aggressively and you risk creating a more uneven surface.

We would only recommend gently sanding the vertical joins, with the lightest grade of sandpaper, if they are raised or jagged.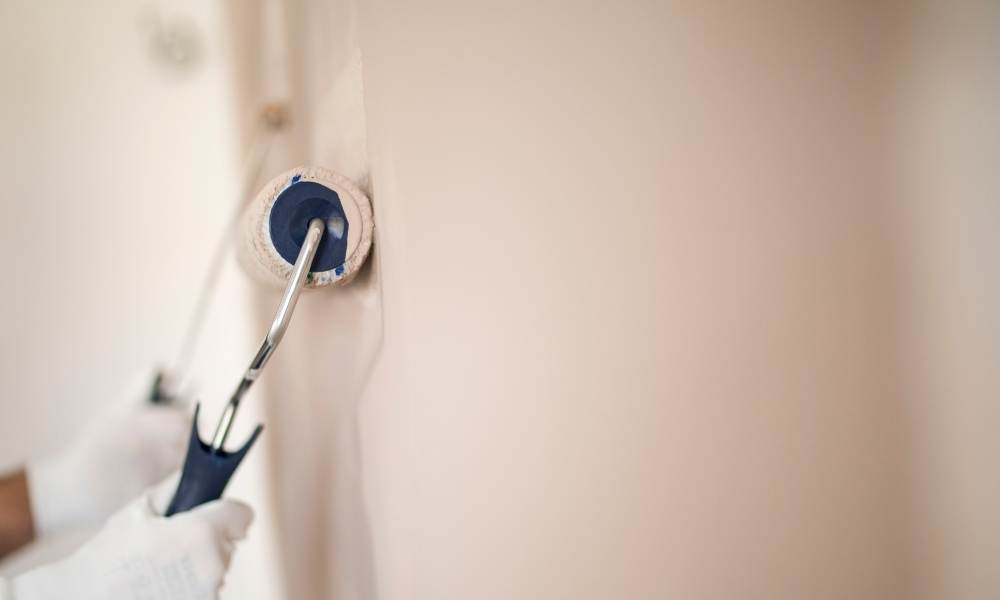 Painting over wallpaper with a one-coat emulsion
As we mentioned earlier, our One Home Paint range only requires one coat for most projects. However, to get a seamless and smooth paint finish over your wallpaper, we would recommend two coats in total. You may require a third coat if your wallpaper is extremely textured or has a metallic finish.
Open the tin of one-coat emulsion and stir thoroughly to mix the formula. Naturally, the paint will separate when it's sat on the shelf and the chalk pigments need to be properly mixed to reintroduce our signature creamy formula.
Once mixed, pour a small amount out into your tray and use a medium-hair roller to apply the first coat to the wall.
We recommend using medium-long haired rollers vs short haired rollers because the longer the fibres (the fluffier it is), the more paint it holds. And when we are covering a patterned or textured wallpaper, a thicker layer of paint is needed.
Leave the first coat to dry for 3-4 hours before attempting a second coat. Opening the windows and increasing the airflow will speed up the drying time.
Our conclusion
We've established the answer is yes to those asking "can I paint over wallpaper?".
However, each case should be evaluated individually, based on the age, application, pattern and texture of your wallpaper.
Some cover-up jobs will definitely be easier than others! If you found the information in this guide useful and decide to give it a go – feel free to send your before and after pictures to us at info@rainbowchalk.com or on Instagram @rainbowchalkltd. We'd love to see!
Discover our One Home Paint range
The One Home Paint is our new wipeable one coat paint, designed to glide over your walls and ceilings with ease. Available in 27 neutral, bold or bright colours, there's a shade for every home.
Browse the full collection here or click the image below.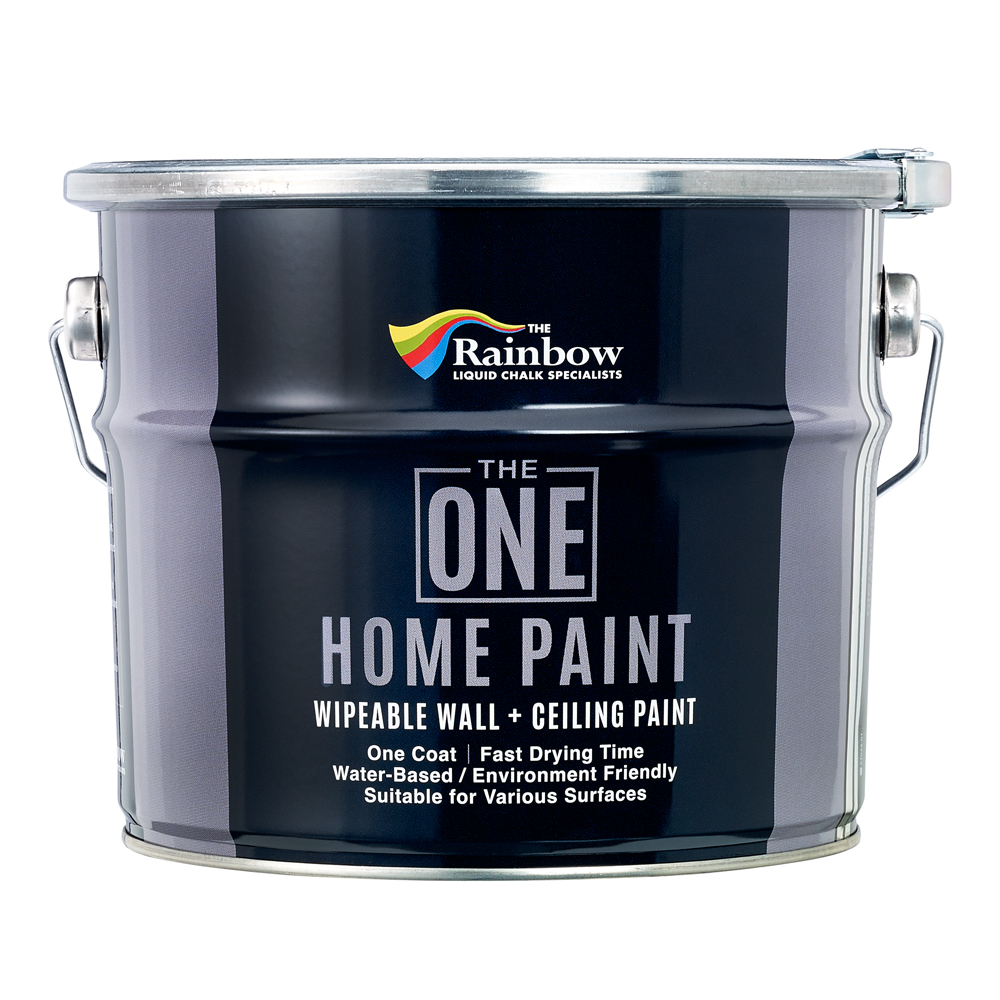 The One Home Paint