A Non-Toxic Alternative To Paint Markers
Paint markers are great bits of kit, but some of them can have a little flaw that can have pretty nasty side effects.
That's right, some paint markers are toxic.
What does this mean?
Well, depending on the chemicals inside the pen, they can be hazardous to your health if used inappropriately.
Some people even say that you don't have to use them inappropriately for them to be doing you harm.
If your pen has phenol, ethyl glycol or xylene (usually used in permanent markers) in it, then you should be careful as these are toxic chemicals. In many cases, you can tell because these give off a very distinctive smell. Symptoms can vary and you should seek medical advice if you suspect you think you are reacting to a toxic pen.
Children in particular are more vulnerable to these chemicals as they are more likely to draw on themselves or put the pen near their mouth. Because of this, care should be taken to avoid giving children these toxic pens.
So what should you do if you're worried about your paint markers?
Well, we recommend looking for water-based pens, such as our Rainbow Chalk Markers.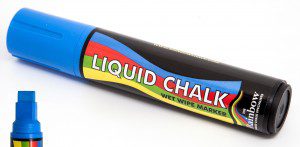 Just being water-based doesn't guarantee that the pens are non-toxic though, so always read the packaging! Our Chalk Markers are not only water-based and non-toxic, but also give you fantastic looking results on many different non-porous surfaces.
They're not permanent and can be removed using just a damp cloth. However, if the marking has been on for a while, it may need a special cleaner.
How To Get A Non-Toxic Chalk Marker
Get your pen by selecting your desired colour in the product boxes below, or check out the full range here. First time buyers get a discount, so don't forget to type ftb10 into the code box when you're at the checkout!