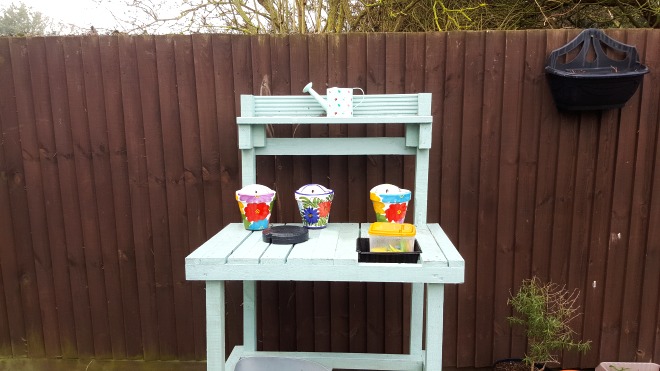 "Winter is coming" but we're not saying Goodbye to summer just yet – oh no! There's still time to renovate your outdoor furniture and get some use out of it before the nasty weather comes around.
What springs to mind when deciding upon a practical piece of garden furniture that's also a conversation starter? A shabby chic plant potting station of course!
An Essex garden-fanatic built this plant potting station by hand and then painted it with garden furniture paint.
How To Paint Your Plant Potting Station
Whether you're making your potting station from scratch or buying a naked wooden frame from the garden store, a lick of shabby chic paint can make it look 10x better!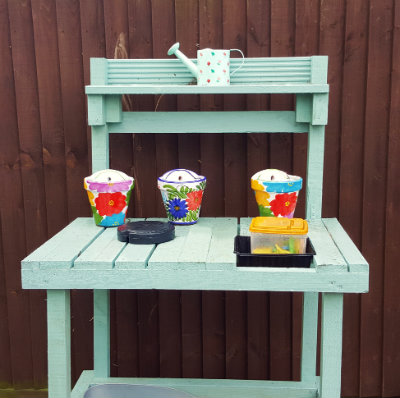 Click here for a full tutorial on how to use our shabby chic furniture paint. Note: The paint used in this tutorial is our interior chalk paint, but the same steps apply when painting garden furniture with our waterproof exterior paint.
Have you got a colour scheme in your garden? We have a range of 19 vibrant, pastel and neutral garden furniture paint colours for you to choose from.
About Shabby Chic Garden Furniture Paint
Our garden furniture paint is perfect for renovating and transforming your exterior furniture and preventing unwanted mould.
Our matt finish, water based paint (which has virtually no odour) has a water-repellent finish containing additives that battle the growth and re-growth of mould. This means you can keep your garden furniture looking squeaky clean for longer!
Our paint can be used directly on bare or painted wood, brick, stone, plaster, metal and plastic.
So you aren't just limited to deck chairs and tables, you can paint just about anything in your garden – including your plant potting station.
Grab A Tin Below
Add your garden furniture paint to your basket below, choosing either a 1ltr or 2.5ltr tin for bigger projects.
FIRST TIME BUYERS RECEIVE 10% OFF WITH PROMO CODE "ftb10" !!!