Alison Duff took to Facebook and posted a before and after picture of her spectacular kitchen grout after using our black Grout Pen. 
Take a look at the transformation below…
Alison's Kitchen Grout Makeover
Here's what the grout looked like before:
And, after using Rainbow's black Grout Pen…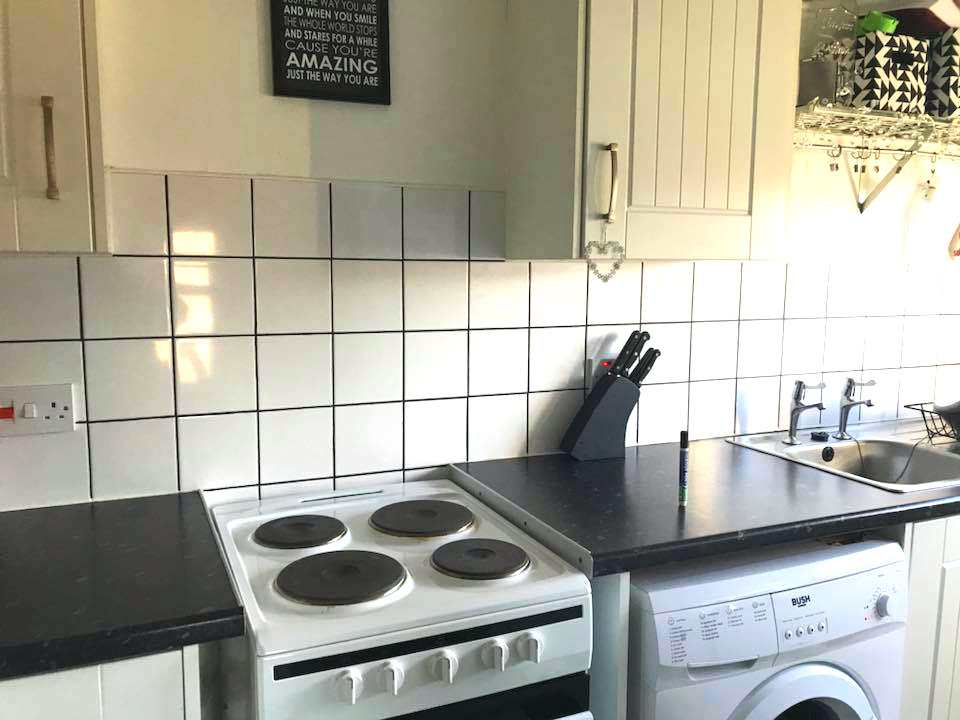 Gone are the days of re-grouting and scrubbing with home made cleaning concoctions…
With minimal elbow grease, you can transform your kitchen completely. All you need to do is pump the nib to get the ink flowing and then start drawing! Any spills along the way can be wiped up with a damp cloth. For an in-depth tutorial, click here.
One person commented on Alison's post saying:
"Such a small but powerful difference"
Does Black Grout Look Cleaner Than White Grout?
Another comment said:
"Looks so much cleaner considering it's black grout, might have to steal this idea"
Which begs the question – is black grout cleaner than white?
Well, think about it. White grout gets grubby as it is… mould and mildew from damp environments like the bathroom start to discolour white grout…  and let's not get started about hair dye stains!
But in the kitchen, your tiles are likely to be used as a splash guard around the hob. When you splash spag bol on white tiles, it's easy to wipe off but if you don't do it straightaway, it permeates the white grout making it much harder to remove…
On the other hand, black grout is more resistant to stains. You may get a few splashes on the tiles but the stains won't show on the black grout, which means it looks cleaner for longer.
Rainbow's Black Grout Pen Works A Charm On The Floor Too!
The same idea applies with floor grout – muddy boots and white grout don't mix. Or… they do and they create brown, grubby grout. Yuck!
Paul from Basildon used a black Grout Pen on his kitchen floor tiles and this was his result: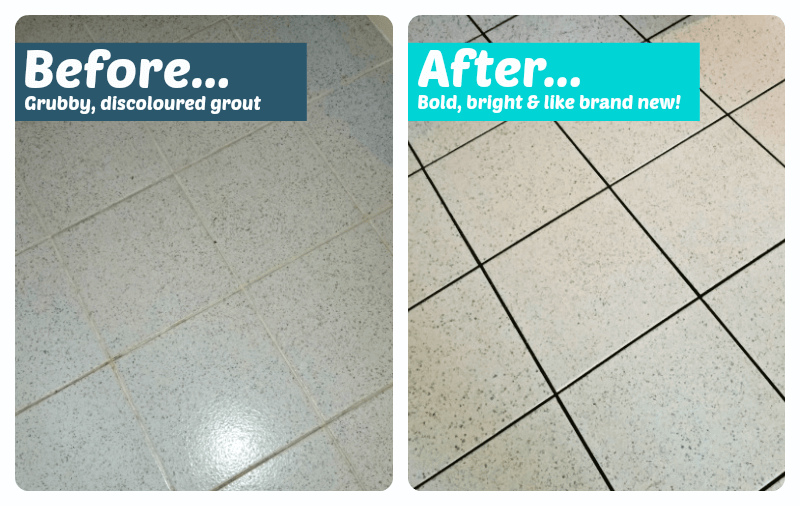 Black Grout Makes Your Tiles "POP"
An added bonus of using Black grout instead of white is that it tends to make your tiles "pop". In both of the examples above, the tiles look brighter as a result of the dark grout.
It's a quick and easy way to bring a new lease of life to your home… on a budget!
Get Your Rainbow Grout Pen
GRUBBY GROUT, BE GONE! Add your black Grout Pen to your basked by using the product box below, or click here to view our entire range of grout pens available in different colours and nib sizes!