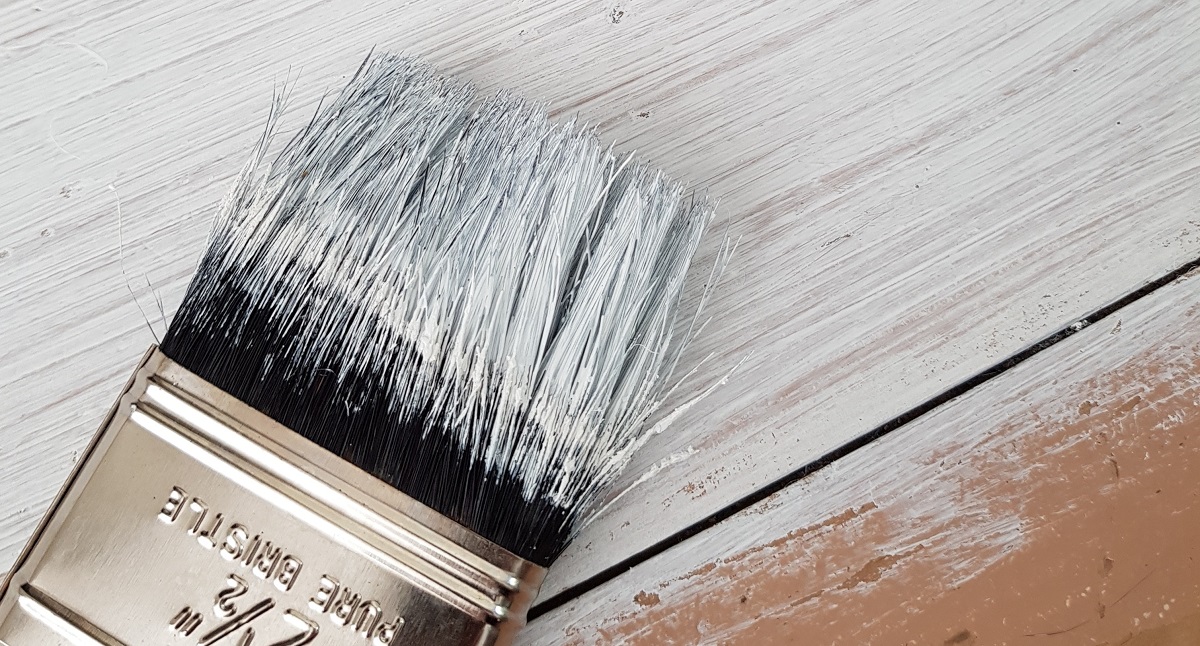 Garden Door Paint Before & After – Customer Project
Our lovely customer, Dawn from Derbyshire, used our One Paint to transform her garden door.

Read on to see how she did this using our wall, skirting & door paint for an effective and affordable DIY!
Quick, Easy & Affordable Door Paint
Our One Paint is an affordable solution used by thrifty homeowners and professional renovators / builders.
The One Paint range has been designed to take the faff and boredom out of painting, allowing you to have a surprisingly fun and speedy experience instead. Just one coat of The One Paint is enough to leave you with a fast-drying, high-quality finish time and time again*
From painting your walls to painting tiles, this hardy one coat paint glides over almost every surface. The water-based, chalky formula is a popular favourite amongst builders and decorators alike, as it can be used both indoors and outdoors too.
With a range of richly-pigmented colours to choose from, there has never been a better time to give your home the revamp it deserves. Click here to view our one coat paint range.
*Please note that more than 1 coat may be required to get your desired finish. The One Coat paint must be stirred through very thoroughtly to ensure that the chalk and water has not separated. If you are painting over a similar colour, you can expect great results from 1-2 coats. However, if you are using a light shade over an existing dark paint colour or brick, more coats are likely needed – as is the case with most One Coat paints.
How To Use Our One Coat Paint
Preparation before painting
Simple preparations are required such as:
remove dirt with a damp cloth
wipe down and ensure the surface is clean and dry
sand/score the surface (optional, based on the finish of surface you are painting)
Then you are free to paint away!
Applying The One Paint
The One Paint is water-based and has low VOCs making this environmentally friendly and ideal for painting indoors and the advantage of painting in low temperatures when using outdoors.
Stir your pot thoroughly prior to use to ensure the colour is properly mixed. If applying by brush, apply evenly following the grain of the wood. If rolling, use a short nap mohair roller.
If another coat is required allow 2 hours before doing so to ensure the best results.
Easy clean up!
Cleaning up your applicators such as brushes and rollers is virtually effortless! All you require is warm water – let them soak and scrub gently.
Which surfaces can you paint on?
Our one coat paint can be used on multiple surfaces which include all woods and laminates, plastic/UPVC, metals, cladding, brick, masonry, stone, glass and more!
The One Paint can be used on treated surfaces such as painted, varnished, bitumen, and creosote sealed surfaces.
What Did Dawn Think?
Just want to say thank you for the quick delivery during lockdown, and how fab your paint is. I used it today for the first time, I did three coats on my back door and its hardly used any paint. All my friends are asking which paint I used so I have recommended you!… It's also a much better colour pay off than other well known brands.

– Dawn from Derbyshire
Get Your Tin Today From £9.99
Available in a selection of colours and tin sizes, view our range of One Coat paint here.