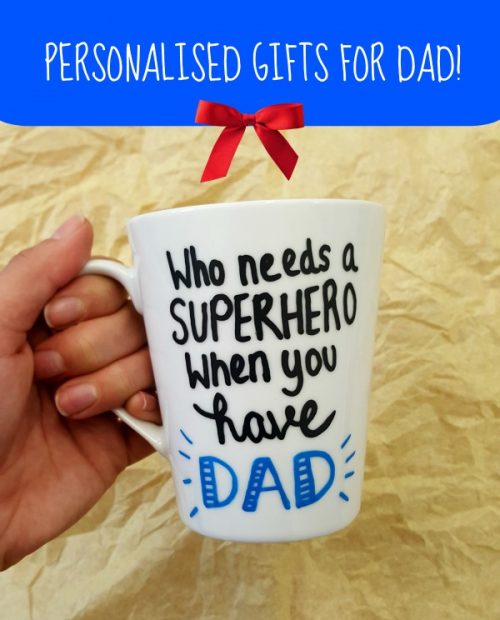 One problem I struggle with each year is buying Christmas gifts for my Dad. Everything I could possibly get him, he already buys for himself or, when I ask him what he would like, he responds with "I don't need anything!". That just won't do. 
This year, I wanted to make a personalised Christmas gift for Dad that shows my appreciation for him. I think that personalised or handmade gifts are more special than anything you can pick up at the shop because your own time and love went into making it.
If your Dad loves drinking tea or coffee, I have the perfect gift idea for you – a personalised mug!
What You Will Need:
A personalised Christmas gift for Dad doesn't have to be expensive! In fact, if you're on a tight budget this gift is ideal because it came to a total of around £10. All I needed to get was a white mug and a couple of porcelain pens in the colours I wanted. Below is a full list of the supplies you will need:
1 oven-proof mug
A tea towel to catch spills
A warm bowl of water
Kitchen roll to wipe away mistakes
An oven – to bake the design at the end
Personalised Christmas Gift For Dad – Getting Started
The instructions we are going to give below are quite brief so, if you require a bit more help and want an in depth guide, just click here to read our previous tutorial post. Or take a look at all of the other customised porcelain gifts you can make here.
The Rainbow Chalk porcelain pens used in this tutorial are non-toxic, which means they're safe for children to use.
It's worth noting that, although the markers are called "porcelain painters", the mug you choose doesn't have to be made from porcelain but it does have to be oven-proof.
Step 1 – preparing your work space
You need to lay out the tea towel on your work space to avoid spilling the ink. It does come off with a damp cloth, but it's better to avoid mess altogether!
Step 2 – get your supplies ready
Put the warm water and kitchen roll next to you. This will come in handy if you make a mistake and want to correct your design. Then you'll want to get your porcelain pens and mug ready.
We suggest washing the mug and drying it before using the porcelain pens to get rid of any dust or dirt.
Step 3 – plan your design
Pinterest is a great place to look for design inspiration. In fact, I got my design idea from Pinterest and decided to change the colours to make it more unique. A few ideas could be:
"World's best Dad!"
His favourite animal
A drawing of you and him
A line from his favourite film
His nickname
Drawing on mugs doesn't come naturally for everyone! You can always lightly pencil on the design before committing to it with the porcelain pens.
My design went wrong several times and I just wiped it off and started again!
Step 4 – prime your porcelain pens
To activate the pen, first shake it a few times to loosen up the ink. Then take the lid off and gently pump the nib on a flat surface a few times. Don't push down too hard or you could damage the nib!
Once you see the ink starting to flow through the nib, your pen is ready to use.
Step 5 – drawing your design
The Rainbow Chalk porcelain pens are so easy to use. The ink is nicely pigmented which means you don't have to keep going over your design to get it bold and bright.
We suggest holding the cup so you can change the angle as you draw. Take your time here and remember, if you mess up, it can easily be corrected.
Step 6 – let it dry
When you are happy with your design, place the cup back down on the tea towel and let the ink set for around 15 minutes. The next step involves using the oven, so take this time to preheat it to 150 degrees Celsius.
Step 7 – bake your design for longevity 
Once your oven has reached 150 degrees Celsius, put the mug on the middle shelf for 30 minutes. Baking the ink sets it and ensures that the design doesn't rub off when it's washed. Once cooked, remove the mug from the oven with an oven glove and leave to cool for 10 minutes.
Step 8 – optional sealant spray
You can leave your mug as it is but, to be on the safe side, you might want to use a non-toxic sealant spray. Without a sealant spray, the design might start to crack and chip away if it is regularly put through the dishwasher.
A sealant spray will keep your design fresher for longer.
Step 9 – ready for Dad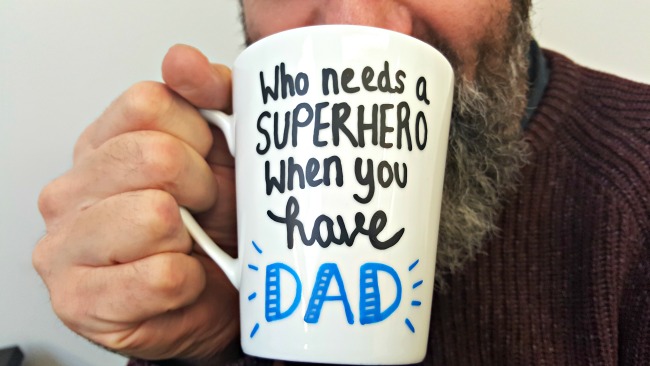 Your personalised Christmas gift for Dad is ready. Wrap it up in tissue paper or in a box and pop it under the Christmas tree for him to open on Christmas day!
Make Your Own Personalised Christmas Gift For Dad With Rainbow Chalk Porcelain Pens
Give your Dad something special this year. Use the product boxes below to add the porcelain pens to your basket.
FIRST TIME BUYERS GET 10% OFF WITH DISCOUNT CODE "ftb10" – enter it at the checkout!